Life on the Farm® Family Board Game
| | |
| --- | --- |
| Price: | $25/each |
| Website: | |
| Year: | 2014 |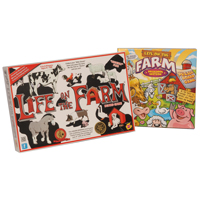 If you can't live it – might as well play it! Fast "Moo"-ving, Easy to understand yet "Udder"ly unpredictable – income and expenses fluctuate with each roll of the dice. FUN to play – uses subtle humor, hilarious mishaps and real life experiences from a real American family farm. Run your own small business, without spending more than you make! – Buy more cows to get a bigger "Milk-check" – but beware, more cows mean higher expenses! First to "Retire" wins! Multi Award-winning – Ages 8-108. 2-6 players. Small family farms feed the world – explore this FUN alternate way of life today!
Preschool Version of Life on the Farm®
Preschoolers love this combination board game and farm puzzle set. Draw a card and match colors to move – it's FUN to take turns! Land on an animal square and get a matching a puzzle piece to put in your barn – Fill the barn with farm animals and you win! This is a lot of FUN for the family to play with your favorite preschoolers! Award-winning – Ages 3-7, 2-4 players.
Available on line and major retailers