Moana Plush Toys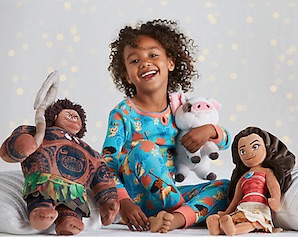 If you're still wondering what to get a child for the holidays, you cannot go wrong with a plush toy from the hit (and instant classic) Disney film Moana. Moana is the newest Disney princess.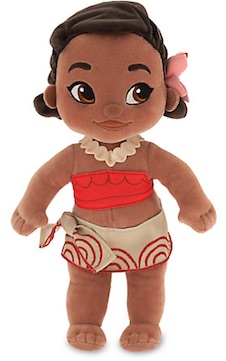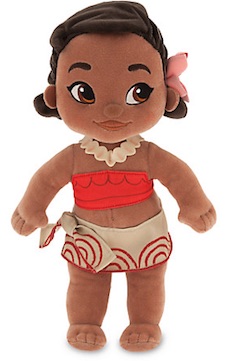 In the film, Moana is introduced as a young child. This little toddler steals the hearts of viewers of all ages. And to commemorate the princess as a child, there is an Animator's Collection plush young Moana. This 12-inch doll is ready to snuggle with any child. She comes dressed in her Polynesian clothes and wears her "shell" necklace along with the traditional flower in her hair. Moana's face is embroidered so nothing can be pulled off by young hands. Her expression reveals the excitement and wonder of this little toddler. This little island girl lists for $14.95.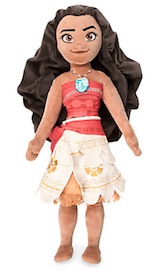 There is also an older plush Moana that is 20-inches in length (height) and is ready for adventure. Moana is not only a princess, but she is also a hero to everyone. This feisty girl really comes through for her people. Like her younger counterpart, Moana plush is made of soft plush with embroidered features. This Moana doll lists for $19.95

Maui is the demigod with some fun tattoos covering his entire body. This plush 15-inch doll carries his trademark fishhook and is ready to battle foes. He is also ready for some big hugs. How can anyone resist his wide grin? Plush Maui lists for $19.95.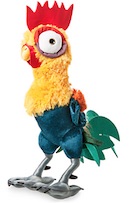 Heihei is a whacky little rooster who is also ready for hugs from boys and girls. This brightly colored 12-inch plush has embroidered features and fluffy feathers. Heihei lists for $14.95.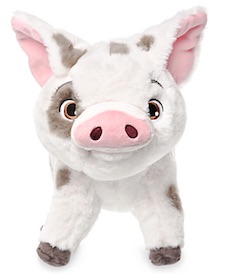 The most adorable plush of the collection is little Pua, Moana's pet pig. Pua is 9 ½ inches of cuteness. He's soft and cuddly with embroidered features and an expression that will put a smile on anyone's face. This little guy will not only be cherished by kids, but also endeared by adults. He's super cute. After cuddling this little fellow, you might never want to eat bacon again. Pua is great for boys and girls. He lists for $14.95. There is also a larger 17-inch high Pua for $39.95.
With the plush collection from the Moana movie, there is a cuddly character for everyone.
About the Reviewer
Francine Brokaw writes about products, travel, and entertainment. She has been published in national and international newspapers and magazines as well as Internet websites. She has written her own book, Beyond the Red Carpet The World of Entertainment Journalists, from Sourced Media Books.
Follow her on Twitter