Snoozeshade Sleep Shades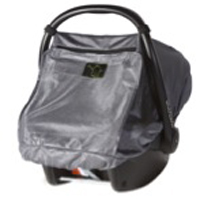 If you're planning on traveling with the little one and attending noisy family gatherings this holiday season, the SnoozeShade will ensure your baby get all the naps she needs while away from home. It is a simple sleep solution that provides little tots with a dark, restful environment while on-the-go. SnoozeShade sun and sleep shade for strollers, car seats and playards allows baby to get all the rest she needs while blocking out harmful sun rays and inclement weather.

Featuring a smooth, silver fabric and child-safety snaps that make it even easier for parents to cover car seats or strollers, the SnoozeShade Deluxe blocks out 94% of light and protects your little one from sun, rain, snow, and even insects. It also has sunburn-preventing UPF40+ throughout, which blocks nearly 98% of harmful UV rays. SnoozeShade took off in the U.S. after becoming a huge success in the U.K. (especially with celebrity moms!). Designed by a British mom searching for a better solution than blanket-draping, SnoozeShade is the perfect option for holiday travel, whether you're in the car, at a hotel, or at granny's.

Plus Deluxe for Carseats ($39.99), SnoozeShade Plus Deluxe for Strollers ($59.99), and SnoozeShade for Playards-Classic ($99.99).