Spot it! Sea Adventures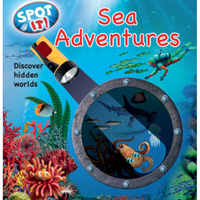 Come and dive into the depths of the seas!
Have you ever seen a blue whale? Do you know where clownfish hide? To find out, Spot it! Shine a flashlight on the dark plastic sheets and everything underneath will become visible. A laser spotlight on the flashlight reveals the answer to fun brainteasers. Learn and have fun at the same time!