The GiggleBellies Sweet Songs & Lullabies by 3D Magic Factory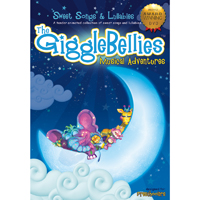 The creators of the multi-award winning DVD series, "The GiggleBellies Musical Adventures" introduce this tender collection of animated sweet songs and lullabies are carefully paced from beginning to end. Created to engage and soothe for quiet, nap and sleepy times. Unique adaptations to beloved traditional lullabies complimented with original sweet GiggleBellie songs.
Approximately 32 minutes, includes ten fully animated songs, plus a bonus video, bonus video, MP3's of most songs, twelve coloring pages and ten fully illustrated lyric sheets. Colorful animations that kids and adults can enjoy together.