"To Be a Healthy Eater, I Have a Plan"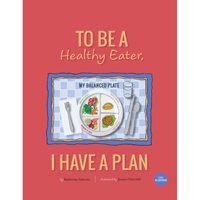 To Be a Healthy Eater, I Have a Plan is a groundbreaking children's book on nutrition that will empower children of all ages to take action to be healthy. Developed with guidance from renowned nutritionists, this Have a Plan Book is the first-of-its-kind to synthesize cutting-edge nutrition studies with real-world child nutrition experience in an entertaining story. It incorporates brain science, the United States Department of Agriculture's "My Plate," Harvard School of Public Health's "Healthy Eating Plate," and scientific findings on children and eating patterns.
Children will be empowered to L.E.A.D.: use Logic and Emotions to Analyze and Decide on a healthy eating plan. Learning about nutrition, examining the emotions that healthy versus unhealthy food can trigger, analyzing suggestions, and developing their own plan gives children the tools they need to grow up with healthy eating habits. They will also practice lifelong, brain-boosting skills in the process of developing their own plan. Appropriate for all ages, adults are guaranteed to learn healthy tips for children and themselves, too!
Blueprint it; This Have a Plan title is also available online to be personalized at www.littleblueprint.com. For the first time, children can learn healthy eating habits while viewing personal photos, a character resembling them, a dedication, a sample healthy eating plan, and specific family dietary considerations whether vegetarian, gluten free, nut free . . . it's all up to you. A personalized book makes children the hero of their story, engaging them and promoting comprehension and recall of critical information about nutrition.