Worry Woos and Don't Feed the Worry Bug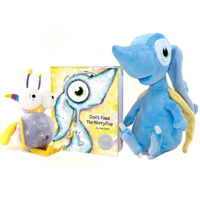 Meet Wince, The Monster of Worry, and his number one nemesis, the WorryBug!
In this engaging follow-up to The Monster Who Couldn't Decide, Andi Green has created a whimsical adventure that brings another emotion to life. Join Wince as he discovers the secret to keeping his worries from getting monstrous. Using unique drawings and clever rhymes, Don't Feed The WorryBug carries an insightful message that readers of all ages will enjoy.
WorryBug Plush $12.99
Don't Feed The WorryBug (HardCover) $14.99