Baby Belle Doll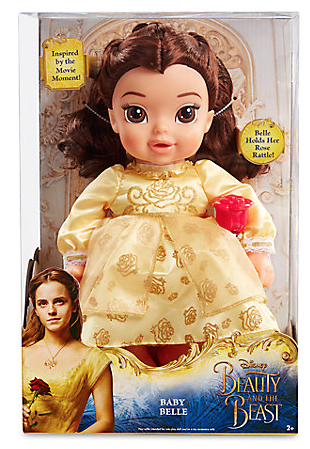 With both the animated movie as well as the new live action film, Beauty and the Beast has wowed generations of viewers. Belle is a Disney princess that is beloved by girls and women. As a matter of fact, the yellow Belle ball dress is the most popular costume from the Disney Store, attendees at the 2017 D23 Expo recently learned.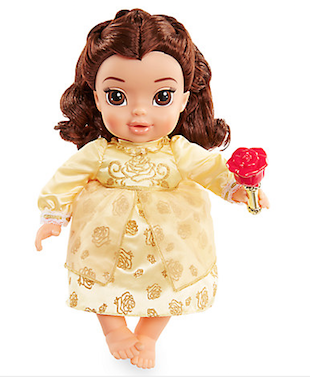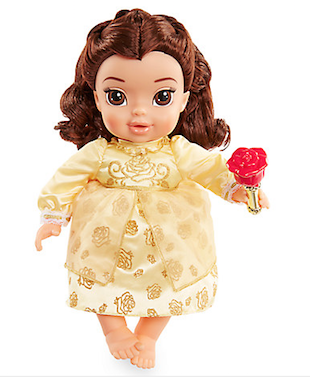 Paige O'Hara voiced the original Belle in the 1991 movie. She told the D23 Expo guests "Belle was ahead of her time." She is "smart, intelligent, and a bookworm." O'Hara was proud of her onscreen princess, who gave up her life for her father without hesitation. "She was noble."
Emma Watson's newest Belle is just as noble in this year's live action film. For a brief snippet, audiences saw Belle as a baby. The newest doll from the Disney Store is Baby Belle, based on that brief moment in the film.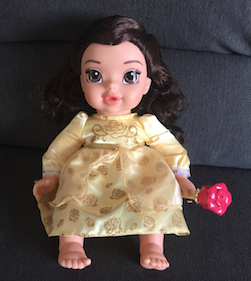 Baby Belle is adorable. She wears the famous yellow dress and has a rose rattle which her hand can actually hold. The rattle does not make any sound, however. And with her other hand she can suck her thumb.
Baby Belle's expression is nothing short of sweet. With her open mouth and wide brown eyes, she is an adorable little doll. With shiny long brown hair, details on her dress, and a toe that sticks up like a real baby, Belle is sure to be loved by little girls.
Belle is 12 inches high although her legs are bent so she can actually sit on the edge of a shelf without falling over. She is also able to sit on a table. Baby Belle has a soft body but her head, hands, and legs are made of hard plastic. She's a sturdy little doll that can stand the test of time, and hundreds of hugs.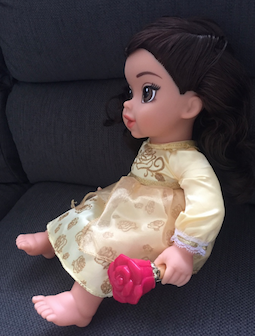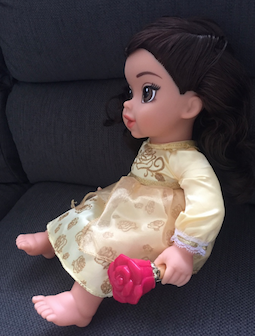 Baby Belle is made to be loved and cuddled. She is for ages 2 and up.
Belle is a princess that inspires and endears herself to young and old. This new Baby Belle doll is perfect for the little princess in your life.
Baby Belle lists for $22.95 and can be purchased from the Disney Store and the Disney Store website.
About the Reviewer
Francine Brokaw writes about products, travel, and entertainment. She has been published in national and international newspapers and magazines as well as Internet websites. She has written her own book, Beyond the Red Carpet The World of Entertainment Journalists, from Sourced Media Books.
Follow her on Twitter