A Sneak Peek at Mr. Peabody & Sherman
Category:
Movies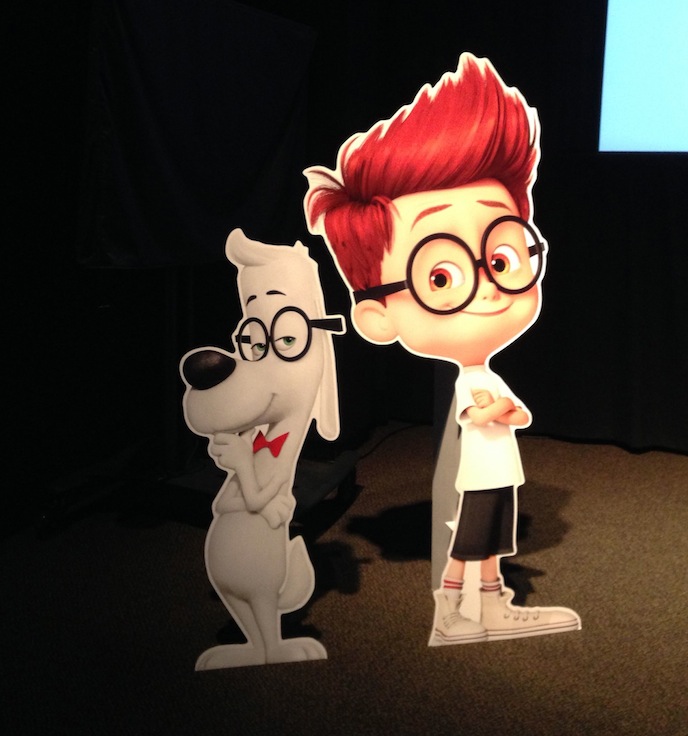 Audiences are in for a treat next spring when the new animated feature Mr. Peabody & Sherman is released. Many folks will remember Mr. Peabody & Sherman from their six-minute shorts on the old Rocky and His Friends TV series which ran from 1959-1964. But you don't have to know their history to understand and enjoy this new film.
A little background – Mr. Peabody is a dog with extraordinary talents. He adopted a little boy named Sherman, and with his WABAC (Way Back) machine they travel through time experiencing adventures and meeting historic people.
This film is about the amazing adventures they have when Sherman borrows the WABAC to impress a girl. It takes audiences back to the time of King Tut, Leonardo Da Vinci, Mona Lisa, and the Trojan War. Ty Burrell who voices Mr. Peabody said, "There is a really cool aspect to this film," which is the historic element. He feels it will inspire kids to learn more about the historic figures and events portrayed in the movie.
Rob Minikoff, the Director, told a small group of gathered journalists that "There is an underlying warmth" to Burrell's voice that made him perfect for the character. Minikoff has been a fan of Mr. Peabody & Sherman for years and began working on getting the film into production for ten years. In 2005 he took it to DreamWorks Animation and finally the film will be released next March.
Tiffany Ward, the Executive Producer of the film has a deep understanding of the characters since her father was the legendary Jay Ward who produced many animated classics. Tiffany made sure this film kept the "integrity" of the characters and acknowledged they are "very true to the originals." She is also amazed at the animation in the film.
I was privileged to see some scenes from the film and what I saw makes me anxious to see the completed film. It is a fun story with iconic characters. And, if you are like me and really love animated kids (Lilo, Margo, Agnes, Edith, Sandy Crood, Russell, etc.) you're going to love Sherman.
The scheduled release date for Mr. Peabody & Sherman is March 7, 2014. It will be an entertaining spring movie. I, for one, cannot wait.
About the Author
Francine Brokaw has been covering all aspects of the entertainment business for 20 years. She also writes about technology and has been a travel writer for the past 12 years. She has been published in national and international newspapers and magazines as well as Internet websites. She has written her own book, Beyond the Red Carpet: The World of Entertainment Journalists, from Sourced Media Books.
Follow her on Twitter
Like her on Facebook