'All These Small Moments' – Movie Review
Category:
Movies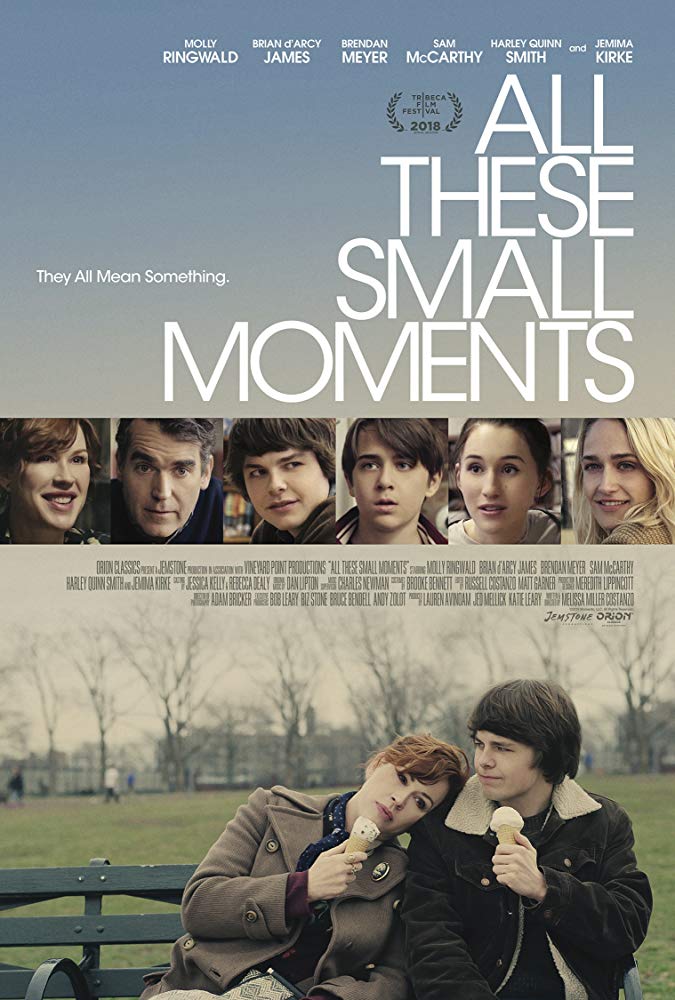 All These Small Moments is an introspective look at one family's ups and downs, beginnings and endings, love and heartbreak, heart and hope. Molly Ringwald and Brendan Meyer lead the cast as a mother and son who each find themselves at potential crossroads in their lives.
The Sheffield family is a little dysfunctional. Tom (Brian d'Arcy James) is having an affair and Carla (Ringwald) is figuring out how to proceed with their lives. In the meantime, their two sons Howie (Meyer) and Simon (Sam McCarthy) feel the pain and suffering their mother is living with. But these boys are also on the precipice of adulthood. Howie is definitely feeling the tug of adolescence and has a crush on an older woman he sees on the bus, Odessa (Jemima Kirke).
High school is fraught with interpersonal relationships. Howie and Lindsay (Harley Quinn Smith) spend gym time in the library. She is interested in him but her reputation puts him at bay.
So, living with the frustrations of burgeoning manhood as well as the potential break-up of his parents puts Howie in a difficult position emotionally. He has a lot on his plate and his mind is constantly burdened by all the ups and downs in his life, not to mention helping his troubled younger brother through their parents' situation.
This coming-of-age story is touching and viewers who remember this difficult time in their own lives can relate to Howie's adolescent crush as well as his confusion as to how to proceed.  Should he talk to her? Should he sit by her?
As the title intimates, there are a lot of small moments in our lives that make us who we are. Going through this time with the Sheffield family is an interesting look at life and tension as well as survival: surviving marriage and adolescence.
This is the theatrical film debut for writer and director Melissa B. Miller Costanzo. All These Small Moments is not rated. It hits theaters January 17, 2019.
About the Author
Francine Brokaw has been covering all aspects of the entertainment industry for over 25 years. She also writes about products and travel. She has been published in national and international newspapers and magazines as well as Internet websites. She has written her own book, Beyond the Red Carpet The World of Entertainment Journalists, from Sourced Media Books, is the entertainment correspondent for Good Day Orange County, and has her own TV show, Beyond the Red Carpet, on Village Television in Orange County.
Follow her on Twitter