At Middleton - Movie Review
Category:
Movies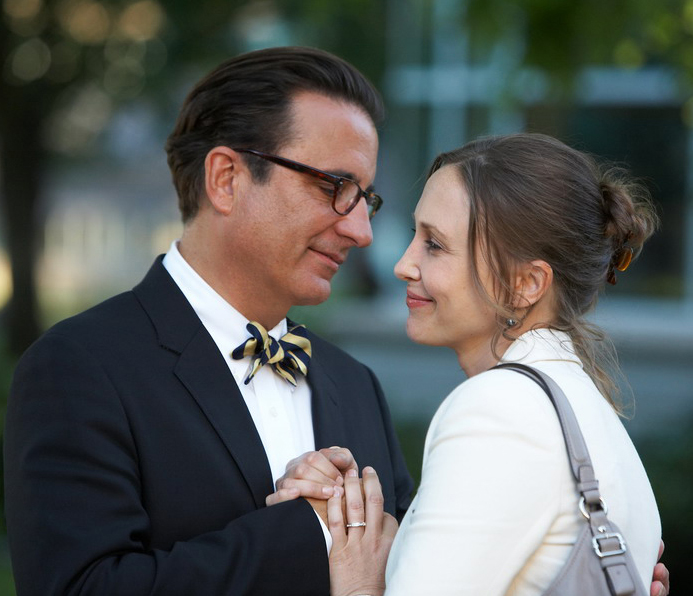 Vera Farmiga and Andy Garcia star in this whimsical yet sensitive story of two strangers who meet and spend a memorable day together. The entire film takes place on a college campus during the course of one day.
Edith (Farmiga) is accompanying her high-strung daughter Audrey (Taissa Farmiga) on a campus tour of Middleton College. And George (Garcia) is a straight-laced cardiac surgeon accompanying his unenthusiastic son Conrad (Spencer Lofranco) on the same tour. While George is excited to have his son look at the school, Edith is apprehensive about her daughter going away to college because that would mean she would be an empty nester and alone with her husband.
During the tour Edith and George leave the group and wander around the campus together, checking out places that would never be on the regulation tour. Edith shows off her unconventional attitude about life and George follows, even if it means "borrowing" a couple bikes left unattended. Together they learn more about themselves and each other than either had expected. And in doing so, they fall in love. But what could happen? After all, they are each married to other people, albeit unhappily. George's influence on Edith and hers on him bring out a companionship neither has experienced and one that fulfills them.
While Audrey enthusiastically seeks out Dr. Roland Emerson (Tom Skerritt), the linguistics professor with whom she desperately wants to study, Conrad's laid-back attitude about the college bring them to a different relationship than their AWL parents. But they also form a rather unusual couple, however not in the usual sense of the word.
Although this is a touching and charming story, it is a little too long and toward the end I felt myself wanting a conclusion. However, I was engaged in the story and could definitely recommend it with enthusiasm were it a little shorter. As it is, I believe some of the scenes were not necessary to make this an entertaining film.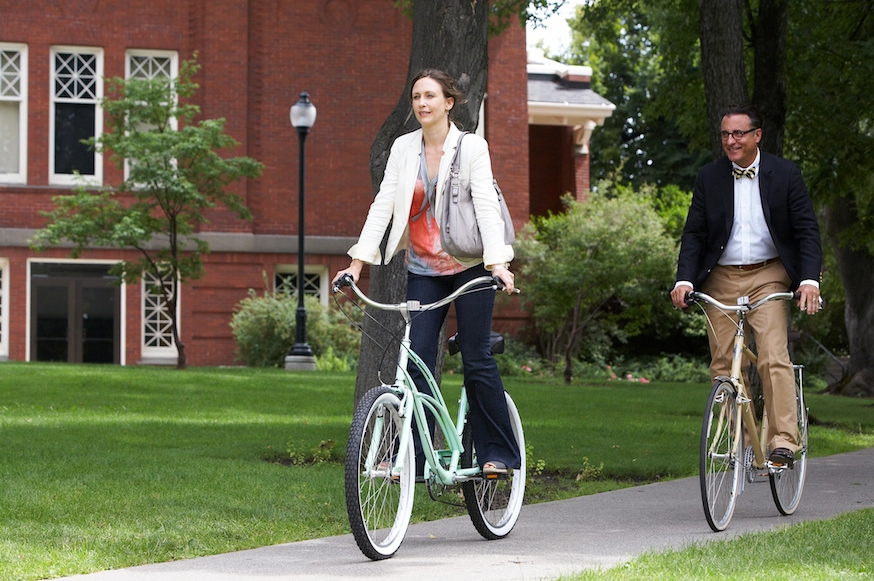 Yes, I did laugh out loud at several scenes and my heart went out to the characters during other scenes. At Middleton has been a crowd-pleaser at film festivals and has won several awards. I enjoyed it however with the caveat that it should be cut just a little for time, which is now 100 minutes. The tagline is "You never know what you'll discover on your first day at college." How true.
An interesting note about this film is that Vera Farmiga's sister Taissa plays her daughter and Andy Garcia's daughter Danielle Garcia-Lorido has a part in the film as well. It's a family affair for the two leading actors.
The film is an intriguing romantic comedy, and people might start using the word "feckless" after seeing it. You'll have to see the film to understand that! At Middleton is rated R – mild drug use and some sexual content. It opens in theaters January 31, 2014.
About the Author
Francine Brokaw has been covering all aspects of the entertainment business for 20 years. She also writes about technology and has been a travel writer for the past 12 years. She has been published in national and international newspapers and magazines as well as Internet websites. She has written her own book, Beyond the Red Carpet: The World of Entertainment Journalists, from Sourced Media Books.
Follow her on Twitter
Like her on Facebook