Cars Land Adds Luigi's Rollickin' Roadsters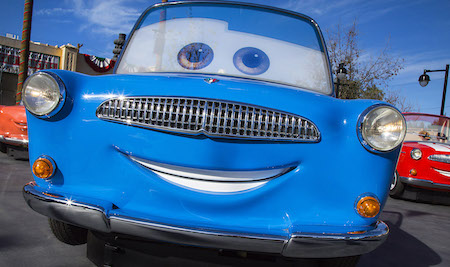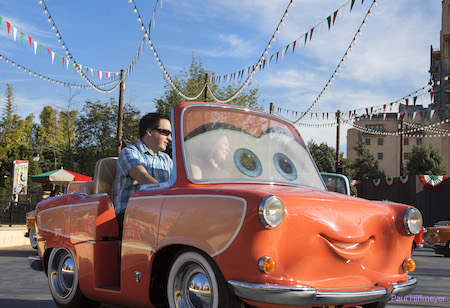 Disneyland Resort is always growing. The newest attraction is at California Adventure where Luigi's family has come to California from Italy to share in the fun. Luigi's Rollickin' Roadsters replaces the old attraction that was, well, not very popular. You remember Luigi's Flying Tires? It was fun but not exciting or memorable. Well, Luigi's Rollickin' Roadsters promises to be more entertaining and enjoyable.
When you get to Cars Land, head to the back to the Casa della Tires. There, guests ride in miniature Italian roadsters as the singing cars dance and move across the floor. "Here at Luigi's, the roadsters seem to have a mind of their own" said Kevin Rafferty, Executive Creative Director of Walt Disney Imagineering. He explained that each car has his – or her – own signature move so when guests ride in different cars, they will get a different experience.
Each car has his – or her – own name and personality. And they each look different. They are definitely unique, and Luigi is happy to have his cousins in Cars Land to help entertain guests in the park.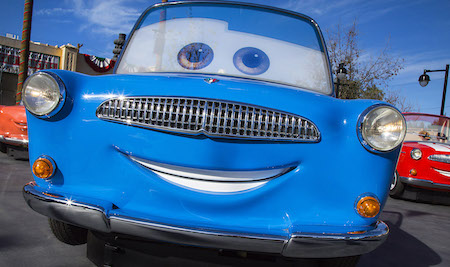 Here are some facts about Luigi's Rollickin' Roadsters:
It is the first Disney attraction in the United States with a trackless ride system. That means the cars are free to dance around at their pleasure.
The cars will spin, turn, and glide across the floor and can even interact with each other.
The "dance floor" is 125 feet long and 70 feet wide, which is large enough to give these mini-roadsters enough room to strut their stuff.
Some of the cars sing. Luigi sings "Rollicking Night and Day," cousin Rosetta sings "Mambo Italiano," cousin Lou sings "Eh, Cumpari," and Luigi calls out periodically with his own additions to the repertoire.
There are fun things to see while you're in Luigi's territory. The attraction adds some extra fun and whimsy to Cars Land. The entrance to Cars Land has Mater's Junkyard Jamboree, where the little tractors spin and sing, and now at the end of the street Luigi's cousins have their own fun dancing and singing. Cars Land is definitely expanding and adding more cares with personality and even musical abilities!
Get your groove thing on with Luigi's Rollickin' Roadsters. The fun opens to the public March 7, 2016.
Click here to check out the fun with Luigi and his cousins!
About the Author
Francine Brokaw has been covering all aspects of the entertainment industry for 20 years. She also writes about products and travel. She has been published in national and international newspapers and magazines as well as Internet websites. She has written her own book, Beyond the Red Carpet The World of Entertainment Journalists, from Sourced Media Books.
Follow her on Twitter