'Death in Paradise' is still fun after all these years
Category:
Television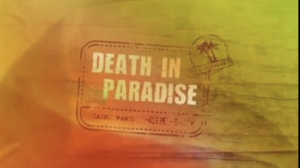 In 2011 Death in Paradise premiered on BBC. The first season is available on BritBox for all of us to watch. Even though this is over ten years old, it is still fun and entertaining, thanks in part to the star Ben Miller.
Miller has had a long career in the acting business that continues today. Having just discovered Death in Paradise, it is no surprise. Viewers will recognize him from shows like Bridgerton, Primeval, and other TV series as well as feature films. Fans of the movie The Prince and Me will recognize him as Soren, the faithful aide to the Prince. With a resume going back to 1991, his career has been long and varied.
In Death in Paradise Miller steps into the shoes of DI Richard Poole, a straight-laced, uptight London cop who is sent to the Caribbean island of Saint-Marie to investigate the murder of a fellow British policeman who was working on the island. Poole insists on wearing his dark suit, leather shoes, and carrying his briefcase, even though the temperature is high and half of the time he is walking on the sand. He wants to solve this crime and return to the dreary streets of London as soon as possible.
To his chagrin, Poole is permanently assigned to the Saint-Marie police department and he must work alongside DS Camille Bordey (Sara Martins), who is more easy-going (although everyone on the island is more easy-going than Poole) and tries her best to help him learn the island ways.
Officer Fidel Best (Gary Carr) always gets the drudgework, thanks to his superior Officer Dwayne Myers (Danny John-Jules). This foursome is a motley crew, but they always manage to solve the crimes, thanks in large part to the great mind of Richard Poole.
Poole is in the same vane as Columbo, except he is not disheveled or untidy. He often looks like he just stepped out of a page of British GQ and he fixes up his cluttered beach home to reflect his cleanliness. He is a fish out of water yet makes the best of his situation. He is not one for cute banter. He is professional – most of the time. That said, he does have his island moments.
This is a fun show with plenty of entertaining characters, and at the top of the list is DI Richard Poole. He is a brilliant detective who manages to see things in little clues that others cannot. Sound familiar? (Columbo) Later seasons Poole is replaced however the original episodes are filled with his unusual ways and clever mind.
Death in Paradise is now streaming on BritBox. Check out their website for subscription information. They have a free 7-day trial so there is nothing to lose.
About the Author
Francine Brokaw has been covering all aspects of the entertainment industry for over 25 years. She also writes about products and travel. She has been published in national and international newspapers and magazines as well as Internet websites. She has written her own book, Beyond the Red Carpet The World of Entertainment Journalists, is the entertainment correspondent for Good Day Orange County, and has her own TV show, Beyond the Red Carpet, on Village Television in Orange County. She is a longstanding member of the Television Critics Association and is accredited by the MPAA. Follow her on Twitter.