Downton Abbey – The Final Season
Category:
Television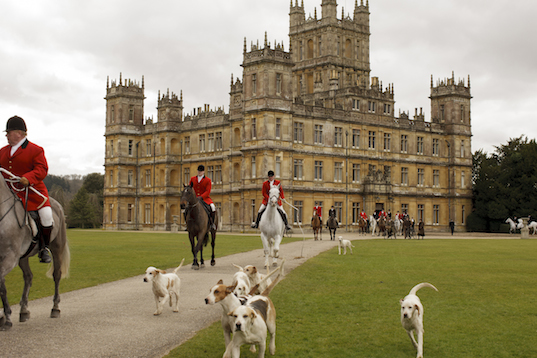 The final season of Downton Abbey begins Sunday, January 3, 2016, with the series finale airing on March 6. This final season has storylines for every main character, both upstairs and downstairs.
Believe it or not, the wedding of Mr. Carson and Mrs. Hughes is finally here. They were engaged last season. Viewers see how this couple copes with being newlyweds, with some very amusing consequences.
Tom Branson, who left last season for Boston, returns and is now fully ensconced in the Crawley family. Mary becomes even bitchier, if that's possible. She has a personal conflict to resolve, as does Edith who has the most interesting storyline this season. She is dealing with her secret daughter Marigold and her love life. But she also shows what a good businesswoman she is when it comes to handling the magazine she inherited.
The service staff also finds themselves in changing situations. Anna and Mr. Bates have an especially trying personal situation but their love sees them through. And Mrs. Patmore is confronted with a moral dilemma that blindsides her and puts a damper on her future plans.
The entire household is confronted with the changing world. The service staff dwindles, other estates in the area are being sold, the modern post-WW I world is changing attitudes. Women are taking more control, households are thinning down, and attitudes are changing at a quick pace, which is something that would have appealed to Sybil.
While fans have enjoyed the situations both upstairs and downstairs and in the town, this seems like the best time to bring the series to an end. Yes, viewers have been devoted to the characters through the years, but with the change in the world (1925), the changes in their personal lives just are not as conducive to this program.
The stock market crash is just around the corner, and as Executive Producer Gareth Neame explained, "I don't know if I could bear to see Robert Grantham go through (another) financial (disaster)."
This season leaves the characters in a way that will not be disappointing to the loyal fans of the series. And there still might be a Downton Abbey movie in the future. The powers that be have not ruled that out.
What – or who – will you miss when Downton Abbey ends? Penolope Wilton (Isobel Crawley) admitted, "I never thought I'd say this, but I got to enjoy wearing those wonderful hats." Joanne Froggatt (Anna Bates) and Michelle Dockery (Lady Mary) both admit they will miss all the people, both in front of the camera and behind the camera. And Elizabeth McGovern (Cora Crawley) had the best answer. "I'll miss being in a hit TV show."
The final season of Downton Abbey runs on PBS January 3, 2016 – March 6. Enjoy the ups and downs of this popular show for the last time.
About the Author
Francine Brokaw has been covering all aspects of the entertainment industry for 20 years. She also writes about products and travel. She has been published in national and international newspapers and magazines as well as Internet websites. She has written her own book, Beyond the Red Carpet The World of Entertainment Journalists, from Sourced Media Books.
Follow her on Twitter