'Hard Sell' – Movie Review
Category:
Movies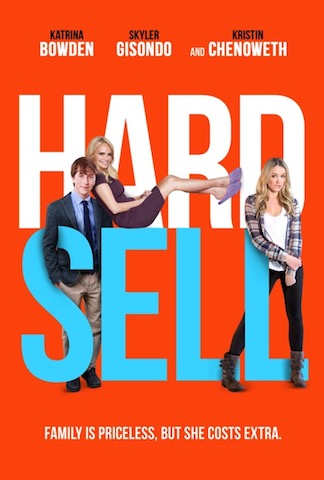 Hard Sell is a convoluted story about growing up, taking responsibility, and capitalism. It's set on affluent Long Island and stars Skyler Gisondo as Hardy Buchanan, a high school senior with a lot on his plate.
Hardy lives with his unstable mother (Kristin Chenoweth) who is devoted to her dog Walter. She is not a typical mom, and she doesn't leave the house. To say she has psychological problems is an understatement.
Learning the dog needs surgery and unable to afford it, Hardy hatches a plan to raise the money so his mother's beloved dog can survive. Just what is this plan? Well, he meets a young woman, Bo (Katrina Bowden), who unbeknownst to him has escaped from a mental institution. She says she is a stripper and the two both need money so they join forces.
Knowing how interested his fellow schoolmates are about the female body, Hardy and Bo start selling "peeks" at her and that turns into advice sessions and soon the money starts adding up. Bo is a free soul who has keen insight into the teenage mind. She actually helps the kids through some of their teen problems.
But in the end, what Hardy is doing on school grounds is not legal, so he is put in a situation where he must confront his capitalistic scheme and the school board.
This totally dysfunctional group of characters makes up this rather odd story that is not something that will appeal to the masses. It is filled with odd situations but nevertheless, at the heart is this young boy who would do anything to help his mother, and in this case he must raise $10,000 for the dog's surgery. Walter is her only joy in life, next to her son. This is a woman completely out on the edge and Hardy fears what will happen to her if Walter dies.
Take this dutiful teenage son, one psychotic mother, an adorable dog, and a free spirited young woman and you have the groundwork for this film. This is one of those teen angst films with one very creative high school senior at the center of it all.
Everyone's lack of respect for others including authority figures, is something that parents might want to consider. Hard Sell is not yet rated. It hits theaters May 20 and VOD that same day.
About the Author
Francine Brokaw has been covering all aspects of the entertainment industry for 20 years. She also writes about products and travel. She has been published in national and international newspapers and magazines as well as Internet websites. She has written her own book, Beyond the Red Carpet The World of Entertainment Journalists, from Sourced Media Books.
Follow her on Twitter