Jonah Hill and Miles Teller talk about 'War Dogs'
Category:
Movies

Truth is stranger than fiction, and nowhere is this truer than the tale of War Dogs about two 20-something self appointed two-bit arms dealers, who score a $300 million contract to supply ammo to Afghan military in the 2000s. The duo managed to pull it off the caper thanks to a little known government initiative.
Based on Guy Lawson's book titled Arms and the Dudes, the satirical look at the political and ethical wheeler-dealers Efraim Diveroli (Jonah Hill) and David Packouz (Miles Teller) might leave moviegoers scratching their heads – how could this possibly have happened? Their operation called for them to purchase arms and ammunition from foreign entities, and then re-sell the goods to the U.S. Department of Defense. Complicating matters they have to transport the weapons across the Middle East and successfully unravel the required red tape.
Their plans weren't entirely risk free, taking into account the allotted number of shady characters. The most recognizable one in a long cameo is played by Bradley Cooper, an ally, who opens all the right doors for the boys. Also notable in the Rogue's Gallery of greedy heavies is Kevin Pollak, who is conned into believing that the money he puts upfront is being used to buy weapons to help defend Israel.
It's greed and corruption that eventually derails the guys' act, taking a dramatic turn in the movie's final moments.
Director/co-writer Todd Phillips, who was the creative force behind the Hangover franchiseadmits the whole scenario behind the movie seems preposterous, "The thing that appealed to me most was the idea that it was based on a real story. If you handed me that screenplay and said, 'Here's a movie. What do you think?" I'd say, "This is cool. This is interesting characters doing fun stuff, but it's so unbelievable. How do you make it more real?"
On a serious note, Rolling Stones journalist Lawson lent his seal of approval over how Phillips adapted his story to the screen. He said, "I wanted it to be a documentary, because that's my background, but the movie succeeds in raising a lot of important issues to the world about America's role in proliferating weapons and about the lack of responsibility of anyone in authority in this country."
Twenty-nine year old Teller stated during a press conference in New York, "When you're looking for scripts for characters around your own age, a lot of time they don't have the kind of responsibility that you usually see in parts that are written for people in their 30s or 40s. I think that these guys' youth gave them a certain bravado and a little bit of ignorance. That was needed to just keep pushing them along this path."
Hill, a Los Angeles native, worked together with costume designer Michael Kaplan in building his character from the hair, the tan, and even the gold jewelry. There was just one think missing – the laugh. Hill interjected, "I thought of people that you only meet once or twice that you remember the rest of your life, and I thought why? A lot of times it's because they had a really distinct laugh. So I showed Todd what I meant right before we began shooting, and he blessed it, and then we just kind of did it."
Getting into the mindset of Efraim sparked mixed emotions for Hill, who shared his feelings of trepidation, "Fortunately, I've played a good amount of characters now with some pretty deep flaws. I would say it was not fun a lot of the time to play this character, although it might really seem it.
"I remember we were in Romania and I was really bummed out and I told Todd, 'I'm just sad playing this guy right now.' He's like, 'But he's such a great character.' It's just hard where you're someone who's hurting a lot of people or deceiving people who trust you not to bring some of that home with you or inside of you."
He continued, "He's so fun on the outside, but he's really covering up these bad things that he's doing, so I definitely felt that while I was doing it. For me, it was a great challenge."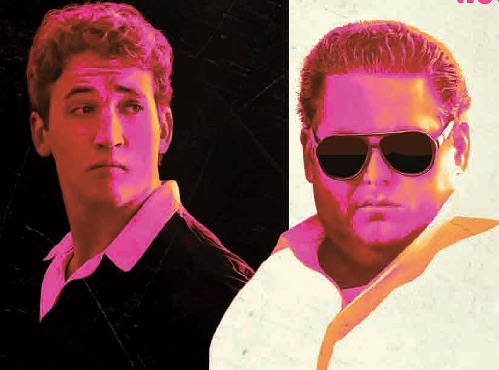 Teller, who received critical acclaim as Sutter Keeley in 2013's The Spectacular Now, admits to having experienced a little of his alter ego's entrepreneur leanings back in his own high school days. He laughingly related, "Me and my buddies found a spot where we could get graphing calculators pretty cheap. We felt like there was a good profit margin there. We were kind of black market dealing to all of our geometry friends."
Hill compared running a business to directing a movie, a task he's about to tackle for the first time, "It feels like every time you're directing a movie, you're building a temporary business. You're hiring all these heads of departments and it definitely feels like I'm a COO of a very temporary company."
Did War Dogs change the way Hill sees the world? "I guess it's only changed my perception," he pointed out. "What initially interested me is that war is a business. I'm not very political. I don't pay very close attention, but maybe it just illuminated me to certain things."
An interesting footnote, Miles's real life character, David Packouz, was on the set and appeared in a small cameo. He's the guy playing the guitar at the retirement home, saying "Don't fear the reaper" to a bunch of 90-year-olds.
About the Author
Winnie Bonelli is a former entertainment editor for a daily metropolitan New York City area newspaper. She is passionate about movies and television and loves to take readers behind the scenes.