Killer Women to Air on ABC
Category:
Television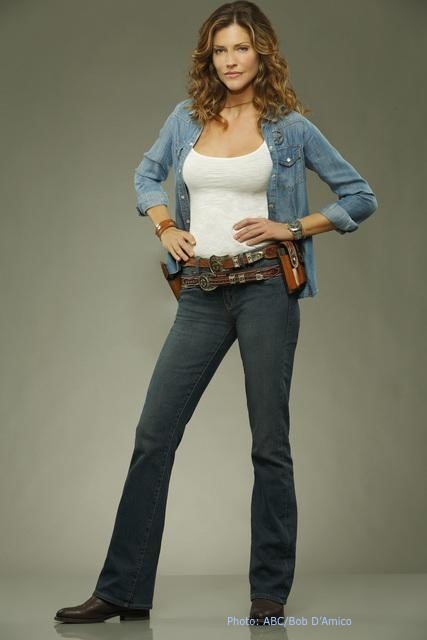 Tricia Helfer (most recently seen in the Hallmark Channel movie Finding Christmas) stars in the new ABC drama Killer Women. Helfer plays Molly Parker, one of the first female members of the Texas Rangers. She is a tough, no-nonsense gal who can hold her own in the world of thugs and criminals, not to mention her own colleagues.
Helfer has something the men don't have – female intuition. This, along with her training and skills, helps her rise in the world of law enforcement.
Finally divorcing her egotistical jerk of a husband, Molly is anxious to start her new life and quickly enters into a relationship with an old friend and DEA agent Dan Winston (Marc Blucas). With the support of her brother (Michael Trucco), her boss (Alex Fernandez), and with her spunk, Molly sets out to get the bad guys, even if she has to bend the rules. She is one tough cookie. She has to be in order to hold her own in the male-dominated world. But hold her own she does.
Sofia Vergara is the executive producer of this new drama. Viewers are in for another dramatic law enforcement show with a character that will capture their hearts. Of course Molly wears well-tailored jeans, cowboy boots, a cowboy hat, and has well-coiffed hair – she could be a model for a "Don't Mess With Texas" poster – but she also has grit, determination, and toughness. She's a likeable character. This is a mid-season show that will be getting a lot of buzz.
Killer Women premiers will be on Tuesday, January 7, 2014 on ABC.
About the Author
Francine Brokaw has been covering all aspects of the entertainment business for 20 years. She also writes about technology and has been a travel writer for the past 12 years. She has been published in national and international newspapers and magazines as well as Internet websites. She has written her own book, Beyond the Red Carpet: The World of Entertainment Journalists, from Sourced Media Books.
Follow her on Twitter
Like her on Facebook