Meryl Streep talks about 'Florence Foster Jenkins'
Category:
Movies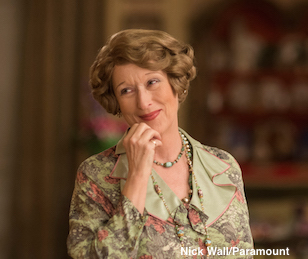 Florence Foster Jenkins' ear piercing shrills could easily have left dogs howling in pain, but nothing could dissuade the delusional chanteuse from pursuing her dream. Despite her obvious lack of talent, Florence has finally earned hard earned recognition some 72 years after her death.
Not only has her name been immortalized in the recent French art house hit Marguerite, but now she can be seen Stephen Frears' Hollywood caliber Florence Foster Jenkins, co-starring Meryl Streep and Hugh Grant, as St. Clair Bayfield, her devoted husband/manager.
Cornering plum roles for women of a certain age, Streep easily shifts into the skin of her protagonist and abandons her own musical abilities, which were on display in Mama Mia and last year's Ricki and the Flash.
The Summit, NJ native's first brush with Florence's notoriety dates back to her Yale School of Drama days. She recalled, "One lunch break the orchestra pit was made up of students and they were screaming and laughing in a little gaggle in the corner so loud that we were alarmed. We asked, 'What are you listening to?' And it was her on a cassette."
Playing her tone-deaf alter ego required a serious adjustment, as Streep noted, "I have a clear understanding of my voice, which hovers around a B, B+, and I have wonderful friends who are great singers. I know I'll never be able to do that, but singing through a character is something I can do. I liked finding what it was in Florence's recordings that insured her longevity. I don't think they were ever out of print since the '40s. It's not just how bad she was, but rather it's aspiring, how hopeful. You hear her breathing wrong in places, which lead me to understand her exuberance and her will."
One of only six actors to have earned three or more competitive Academy Awards, numbered among her nominations are 1981's The French Lieutenant's Wife, 1983's Silkwood, 1985's Out of Africa, 2006's The Devil Wears Prada, 2009's Julie & Julia, 2013's August: Osage County, and 2014's Into the Woods. Streep has also received 29 Golden Globe nominations with eight wins.
So much in Florence is about the need to perform. Where does that personal need come from? During a doesn't come from stem education. It comes from the encouragement at home, maybe music being played. On the other hand, I don't know where the artistic impulse comes from because my husband (Don Gummer) grew up in a house in Indianapolis that had no art, no art books, and he's just this formidable creative mind and incredibly visual, but that wasn't necessarily what surrounded him, except in his imagination."
She continued, "I think as children we have such rich fantasy lives, imaginative capacities that too often get beaten out of you by the years, and the worries of early adolescence. 'Oh, I don't want to stand out.' Or whatever it is that stops us from out unbridled access to fun, abandon, and play."
How has playing Florence affected Streep's life? For starters, don't expect to hear Meryl belting out an aria in the shower anytime soon.
"As for Florence, I'm more in the Eeyore category than Pooh. I tend to look at the half full aspect of life. I think doing this film and some other things I've done has helped me more towards a more optimistic frame of mind," she concluded.
About the Author
Winnie Bonelli is a former entertainment editor for a daily metropolitan New York City area newspaper. She is passionate about movies and television and loves to take readers behind the scenes.