My Boyfriends' Dogs on Hallmark
Category:
Television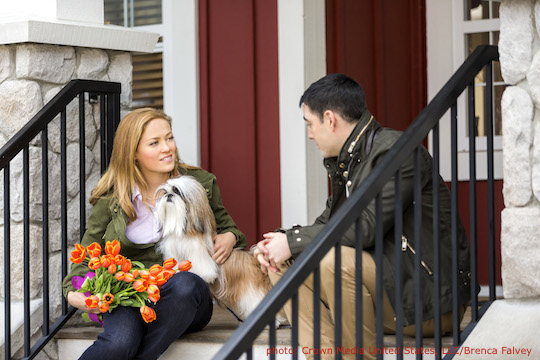 This new Hallmark Channel original movie will warm your heart. My Boyfriends' Dogs stars Erika Chirstensen as a woman in search of true love.
The film begins with Bailey (Christensen) running into a diner wearing a wedding dress, drenched by the rain, accompanied by three dogs. Just how did she get in this situation? The owners of the diner, Nikki and Louie (Joyce DeWitt and Michael Kopsa), are eager to hear her story.
Bailey loves dogs. Unfortunately, her last pooch recently passed away, so she is living alone in her dream house. Even though her mother (Teryl Rothery) thinks she should get another dog, Baily isn't ready. What she really wants is a man to share her house and her life.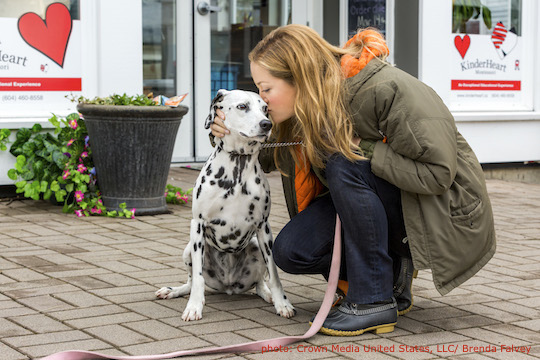 Then Bailey meets Wade, who seems like the perfect man. He has a Golden Retriever named Adam who adores her. Wade turns out not to be the perfect man. Then she meets Jonathan who also seems like a great guy. His Dalmatian is named Eve. Needless to say, Bailey and Eve are great together but Jonathan is, well, not what she expected. Next on the list is Eric. Eric isn't a dog lover, but he accepts her love of dogs and even adopts a Shih Tzu named Shirley.
So, what happened to Bailey with all these men and the dogs? She tells the entire story at the diner as the Nikki and Louie hang on every word. Who could make up this kind of thing? A runaway bride with three dogs in tow?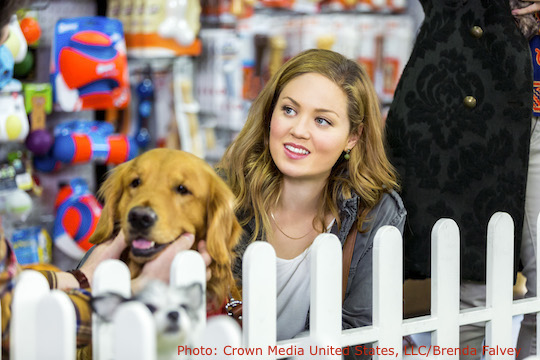 Christensen is adorable as the woman who tries to be the perfect mate to the three men, but along the way she loses her self. The one constant in her life is her love of dogs, and their love of her. She has a way with the furry fellows and they provide the warm and fuzzy aspect of the story – no pun intended. After all, who wouldn't love Adam, Eve, and Shirley? Just looking at their faces is enough to warm your heart, and that's what they do for Bailey. But are dogs enough in her life? What she really needs is a man who loves her for whom she is as well as loves dogs as much as she does.
Okay, you know this is a Hallmark Channel movie so it's going to leave you with a nice ending. It's a movie that will have you feeling happy and probably eager to hug your own dog, if you have one – or two or three.
My Boyfriends' Dogs premiers Saturday, October 18, 2014 on Hallmark Channel. Grab your pooch and settle in for a cute dog-gone (I couldn't resist) little film.
About the Author
Francine Brokaw has been covering all aspects of the entertainment business for 20 years. She also writes about technology and has been a travel writer for the past 12 years. She has been published in national and international newspapers and magazines as well as internet websites. She has written her own book, Beyond the Red Carpet The World of Entertainment Journalists, from Sourced Media Books.
Follow her on Twitter
Like her on Facebook