'Nature Cat' on PBS
Category:
Television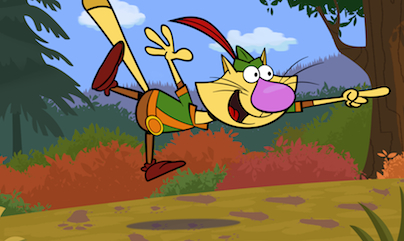 Nature Cat is the newest preschool series in the PBS Kids lineup. This animated series introduces kids to the wonders of the outdoors. The creators, brothers David Adam Rudman, hope after watching Nature Cat and his friends explore their backyard, kids will get off the couch and go into their own yards to "live the show" and explore the wonders of nature while using their own imaginations.
There are plenty of things to do outside. While kids might prefer to stay inside and fiddle with their video games or stay glued to the TV, Nature Cat has, at its core, the intent of getting kids to play outside.
How many kids do you know that sit inside even on glorious days? They are practically glued to their electronic devices. Yes, even little kids. After all, they have grown up and are growing up in a world where everything is at their fingertips. Hey, if they want to know about butterflies, all they have to do is search for the info on a computer, unaware that simply going outside they might get a glimpse of one up close and see how it flies through the air. What a great concept. Seeing and discovering nature in the great outdoors is something that many kids are missing these days.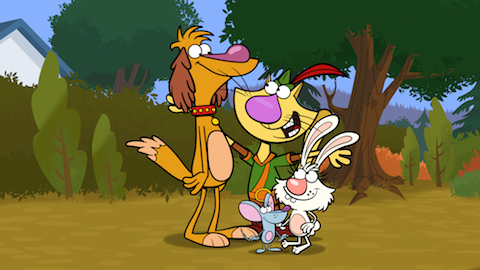 But just because these characters are out of the house, don't think they can completely ignore the technology of today's world. On the contrary. Daisy is very smart. "But she also has a smartphone, so she's [the] character who might be a little tied to technology, but she knows how to use it when she gets out in the world. If she has a question, she will look it up like kids today, and then she'll put the phone away," explained Adam Rudman.
"In our show, there will be [special] moments. We call them 'play the show moments' where we are hoping kids will watch and they will say, 'I want to go play that. I want to do exactly what they just did,' and go outside, and [perhaps] build a birdhouse or plant a butterfly garden or dig for earthworms."
"Many of today's children are growing up with less of a connection to nature, so we set out to create a very funny, action-adventure series that will inspire kids to get outside, starting in their own backyards and parks, and explore," said David Rudman. "Our hope is that our viewers will develop an appreciation and love of nature and will reap the many benefits it has to offer," added Adam Rudman.
Parents and kids can access more fun with Nature Cat on the website.
Nature Cat premiers November 25, 2015 on PBS.
About the Author
Francine Brokaw has been covering all aspects of the entertainment industry for 20 years. She also writes about products and travel. She has been published in national and international newspapers and magazines as well as Internet websites. She has written her own book, Beyond the Red Carpet The World of Entertainment Journalists, from Sourced Media Books.
Follow her on Twitter