'Peg + Cat Save the World' on PBS
Category:
Television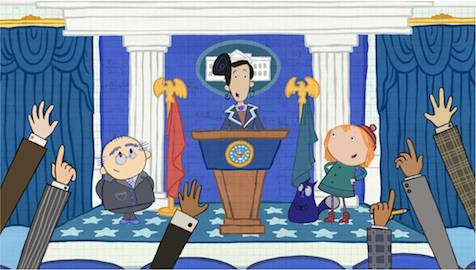 PBS' preschool series PEG + CAT has taken the characters to a new place – The White House! In their one-hour movie, Peg and Cat are called on to use their scientific and math skills to save the world.
This show uses science and math all the time as the characters solve various problems that arise. This time shapes, and mainly triangles, are front and center as they are asked by the President of the United States (voiced by Sandra Oh) to help solve a "problem of national importance." It seems there is a strange sound emanating from space and it's getting louder, which means it's getting closer and soon it will crash into the planet.
Peg and Cat are named "Directors of National Problem Solving" and discover that the sound coming from space is a sequence with two long, two short, and one long in duration. Their math skills help them with this first part of the puzzle. They follow the clues to figure out exactly what –or who – is making the sounds and then they must figure out how to stop it – or him – before he runs into the planet and destroys everyone and everything.
It's a clever little show with the characters using the Triangular Office instead of the Oval Office. Peg and Cat become the president's best hope for saving the planet, and they don't disappoint her.
This special PEG + CAT movie has already premiered on PBS and will air again, however it is available now for free on the PBS KIDS Video App and at pbskids.org.
According to a press release from PBS, a recent study from EDC and SRI International found that children who used PEG + CAT media showed significant improvement in critical math areas of ordinal numbers, spatial relationships and 3-D shapes. In addition, parents and caregivers who used the content felt more confident that they could help their children with math concepts and problem-solving strategies.
About the Author
Francine Brokaw has been covering all aspects of the entertainment industry for 20 years. She also writes about products and travel. She has been published in national and international newspapers and magazines as well as Internet websites. She has written her own book, Beyond the Red Carpet The World of Entertainment Journalists, from Sourced Media Books.
Follow her on Twitter