'Jackie Robinson' Documentary on PBS
Category:
Television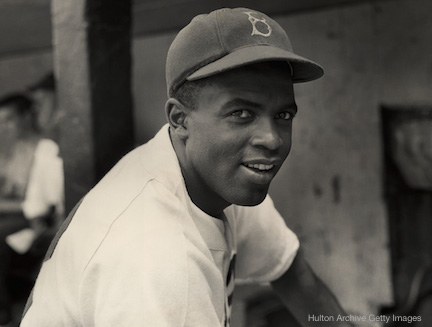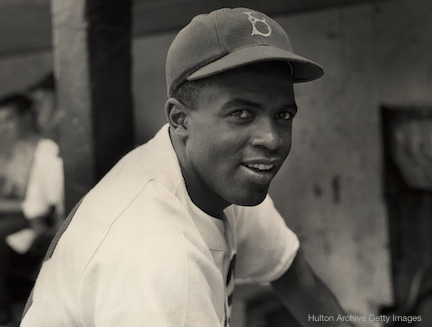 Paying him the ultimate compliment, Martin Luther King Jr. once described Jackie Robinson as "a sit-inner before sits-ins, a freedom rider before freedom rides." To the public he will be forever immortalized as the first African-American ballplayer to shatter the color line in sports in 1947, but that's merely the catalyst that enabled his quest and determination to insure equality for all men regardless of their color or nationality.
Delving deep beyond his accomplishments in the ball park, documentary filmmaker Ken Burns takes television viewers on an emotion packed journey beyond the legendary sportsman's public accolades to reveal the humiliation he was forced to overcome and the dedicated woman, Rachel Robinson, the love of the legendary athlete's life, who shared that odyssey.
Simply titled Jackie Robinson, the PBS four-hour 2-part mini-series airs April 11 and 12, 2016. The documentary could be looked upon as an expansion of a subject first touched upon in Burns' massive 1992 exploration of baseball where he dedicated the Sixth Inning episode, covering the 1940's, to Robinson. Even then, Burns' acknowledged that time restrains prevented him from telling Robinson's life and accomplishments in its entirety. It was at the urging of Robinson's 93-year old widow that the current production came into focus.
Except for a loss of hearing, Rachel is as dedicated to her late husband as the day she first laid eyes on "the big man on UCLA campus." Her lasting love and admiration are undeniable, as Rachel recalls, "He was not only just handsome, but the smile was so engaging, and his manner was so quiet, respectful, and supportive of me in that conversation that I think I fell in love with him on that first day. But the thing I loved about him was his ability to commit. He was committed to the marriage. He was committed to the family. He was committed to the team. His ability to commit and see it through, any difficulties, is a sign of any person of their merit and their worthiness."
And he had was more than his share of difficulties to overcome. Brought up from the minors, the Royals in Montreal, to play for the Brooklyn Dodgers by Branch Rickey, the 28-year-old war veteran faced a nation divided. Many whites and nearly all blacks applauded the move, but he faced opposition from many major league baseball players, like southern player Enos "Country" Slaughter of the St. Louis Cardinals, who spiked Robinson so hard it resulted in a 7-inch gash, in addition to criticism from some media outlets.
At Rickey's urging Robinson was forced to "turn the other cheek," for the first several years, but with the opening of the 1949 season he became "more himself." Burns interjected, "That's the more interesting Jackie Robinson, who would begin to argue with umpires, who would encourage his teammates to play better, who would speak out about issues of civil rights. And may I point out that was his best year ever. That's when he won the most valuable player award in the National League and had his highest statistics."
Over the course of his 10-year career, Robinson attained a .311 lifetime batting average, played in six World Series. Despite such notoriety and acclaim, the playing field remained uneven as Robinson was refused service time and again at the hotels and restaurants his white teammates normally frequented. After his career on the diamond, he became a widely read newspaper columnist, divisive political and tireless advocate for civil rights paving the way for a generation of more militant generation of leaders in the civil rights movement. A victim of diabetes, Robinson died at the youthful age of 53.
As someone who has lived through some of the darkest moments in American history in regard to race relations, Rachel has some definite opinions about what is happening today. She remarked, "I am pleased with the fact that people are speaking out now. The victims of segregation have learned to present themselves in a way that other people can begin to understand the impact of segregation and discrimination.
"I've got 15 grandchildren. I'm thinking about the next generations and what kind of world are we creating for them? So I think the ongoing exposure, and trying to tell people about what can happen and what will happen is very important to me."
Concluding the interview, Burns confided, "My admiration of Jackie Robinson only deepened with the making of this documentary. It's an amazing story of forbearance and affirmation in the face of adversity. It certainly transcends sports and even American history. In the profundity of his actions, not just in holding it in, but also once he was free he dedicated every moment of every day to making the lives of others different. A lot of us pay lip service to that, but he actually did."
About the Author
Winnie Bonelli is a former entertainment editor for a daily metropolitan New York City area newspaper. She is passionate about movies and television and loves to take readers behind the scenes.