'RFK: The Kennedy Family Remembers' on History Channel
Category:
Television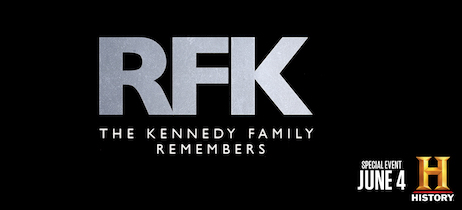 To honor the life of their father on the 50th anniversary of his assassination, Kathleen, Kerry, and Robert Kennedy, Jr. talk about their dad and his life and times. In RFK: The Kennedy Family Remembers, viewers get an inside look at the man who affected so many people, especially during the last year of his life.
Besides the three (of eleven) children of Robert and Ethel Kennedy, Kennedy insiders and historians also weigh in and discuss the evolution of RFK from the time he was Attorney General under the Kennedy Administration to his death. His fight for economic and racial justice, his depth of compassion, and his commitment to this country is front and center.
This film shows the evolution of the man. He had a great capacity for change, and that is exactly what he did and why he was beloved.
Looking briefly at the Cuban Missile Crisis, Apartheid in South Africa, Poverty in the American South, and the War in Vietnam, the film provides a good sketch of RFK during these critical times. It's not an intricate documentary, yet it is a good representation of the ideals and the history that led RFK through the 1960s. He forged his own way after coming out of the shadow of his brother, and he was a beacon of hope for the country in a troubled time.
For those of us who were alive, it's difficult to believe it has been 50 years since his death. In many ways it feels like just yesterday but when we look at the things that have happened since 1968, it seems like centuries ago. The death of Robert Kennedy was perhaps the most pivotal point in recent American history, even more so than the assassination of President Kennedy. With the death of RFK, the country turned a sharp corner and many people, including Robert Kennedy, Jr., say we are where we are today because of the assassination.
I have often been asked if I thought the world would be completely different had RFK not been assassinated. My answer is always, "Yes." Even if he had not been elected president, he would have been a major factor. And had he become the president, the entire world would definitely be a different place in which to live.
"To tame the savageness of man and make gentle the life of this world." That is what we would have strived for. That is what he strived for.
RFK: The Kennedy Family Remembers premiers June 4, 2018 on History.
About the Author
Francine Brokaw has been covering all aspects of the entertainment industry for over 20 years. She also writes about products and travel. She has been published in national and international newspapers and magazines as well as Internet websites. She has written her own book, Beyond the Red Carpet The World of Entertainment Journalists, from Sourced Media Books.
Follow her on Twitter