'Scooby-Doo! And the Gourmet Ghost' DVD GIVEAWAY
Category:
Giveaways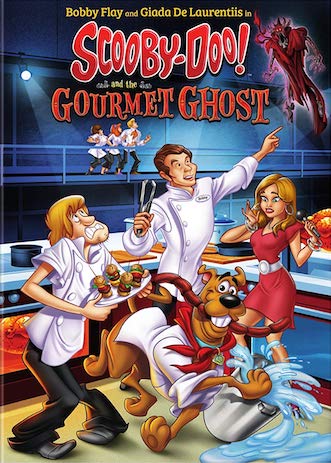 In Scooby-Doo! And the Gourmet Ghost, the Mystery Inc. gang visits Rocky Harbor Culinary Resort, a new cooking retreat located in New Port Cove, Rhode Island. It's a food lover's destination, where visitors can learn to prepare meals like master chefs. As Scooby-Doo and his pals arrive to the resort, they are met by Fred's uncle Bobby, who happens to be the world-famous chef and restauranteur Bobby Flay.
The bonus episodes on the DVD are:
What's New, Scooby-Doo? "Recipe for Disaster" — Shaggy wins a tour of the Scooby Snacks factory, where a sludge monster is on the loose.
A Pup Named Scooby-Doo, "Wanted: Cheddar Alive" — A "cheese monster" frightens away all the workers at the Scooby Snack factory, so no more Scooby Snacks can be made. But without a Scooby Snack, Scooby won't pursue the monster. The kids convince Scooby to help unmask the bad guy and reopen the factory.
Scooby-Doo! Mystery Incorporated, "The Devouring" — Dr. Rick Spartan returns to Crystal Cove to stop a gluttonous monster who is devouring people whole.
We have some DVDs to giveaway.
To be eligible to win a copy of Scooby Doo! And the Gourmet Ghost, email us at [email protected] with "Scooby Doo Giveaway" in the title. Please supply your name, address, phone number and email address (so we can let you know if you are a winner).
The deadline for this giveaway is September 7, 2018.