The White Tower on DVD
Category:
Blu-ray's and DVD's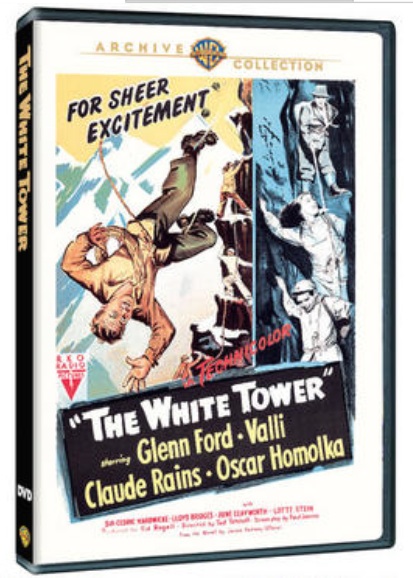 The White Tower is a 1950 movie about people and their interactions, as well as their inner turmoil. The story takes place right after the World War II and is set in the Swiss Alps. Everything centers on Carla Alton (Villi), a woman who is intent on putting together a group to climb the infamous White Tower Mountain.
Years earlier Carla's father, a famous mountaineer, attempted this climb and died on the mountain. No on has scaled this mountain and Carla wants to do it as an homage to her father. She is a driven woman. She knows she can get to the top to honor her father.
Putting together a team of climbers is not too easy. She enlists her father's friends, Dr. Nicholas Radcliffe (Cedric Hardwicke) and Andreas (Oskar Homolka) who reluctantly agree. Joining them is Paul Delambre (Claude Rains), a French writer. And then Martin Ordway (Glenn Ford) and finally Mr. Hein (Lloyd Bridges) round out the climbing team. Each person has his or her own reason for making this treacherous climb.
During the climb, viewers see the true inner strength of each of the climbers. Are they there as a team or for themselves? Ordway is an American who was shot down during the war, not far from the mountain. He has no roots at the moment and seems to just be trying to discover himself and his future. Delambre is a frustrated writer who is trying to compose a book about the mountain. Hein is a former German soldier who still holds the Nazi superiority in his soul.
This is not a movie about mountain climbing. It is a movie about personalities, inner strength, and finding one's place in life.
The White Tower is part of the Warner Archive Collection and can be ordered through their site at www.wbshop.com.
About the Author
Francine Brokaw has been covering all aspects of the entertainment business for 20 years. She also writes about technology and has been a travel writer for the past 12 years. She has been published in national and international newspapers and magazines as well as internet websites. She has written her own book, Beyond the Red Carpet The World of Entertainment Journalists, from Sourced Media Books.
Follow her on Twitter
Like her on Facebook