'Toy Story 4' – Movie Review
Category:
Movies
They're back. Woody, Buzz, Slinky, Hamm, the Potato Heads, Mr. Pricklepants, Trixie, Rex, Jessie, Dolly, and all of Andy's and Bonnie's toys return along with some new ones. Toy Story 4 is a bittersweet story of the toys and their relationships with each other and with their kid!
Toy Story 4 director Josh Cooley was in high school when the first Toy Story premiered in theaters. "I think I have an interesting point of view because I didn't work on any of the other films, so I came into this as a fan," he says. "To me, the Toy Story characters are the Mickey, Donald and Goofy of Pixar. Woody and Buzz have become part of movie-going lexicon. Toy Story was not only Pixar's first movie, but it was the first feature-length film to be completely computer animated."
In Toy Story 3 Andy went away to college and gave his treasured friends to Bonnie, who has an amazing imagination. In subsequent made-for-TV shows, (Toy Story of Terror and Toy Story that Time Forgot) Bonnie's love and imagination with her toys captured the hearts of viewers.
When Andy had his toys, Woody was his favorite and went with him everywhere. Now Woody is with Bonnie and has been demoted, so to speak. He's not her favorite but he still feels responsible for her, in the same way he did for Andy. He knows his purpose it to make Bonnie happy. And when she is afraid to go to kindergarten, Woody stows away in her backpack to be there for her if she needs him.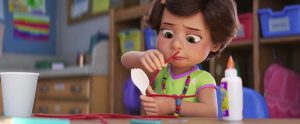 At the kindergarten initiation day Bonnie creates Forky, a spork combined with googly eyes and other items from the trash. She instantly loves this new toy. When they all get back to her room, Woody introduces Forky to the gang. But Forky still thinks he is trash and not a toy. After all, he came from the trash. Says producer Jonas Rivera, "We loved the idea of Forky. He's like an infant. He doesn't understand the rules of the world, so he doesn't play by the rules, which really makes the story feel fun and new. But it makes life hard for Woody, who's just trying to help Forky understand the importance of his kid."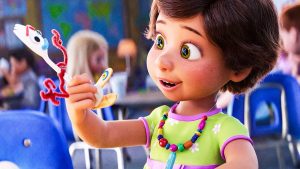 Bonnie and her parents take off in an RV for an end-of-summer vacation, along with Buzz, Woody, several of her toys, and her new favorite toy Forky. While Forky still doesn't understand the importance of being there for his "kid," the gang instills in him the duty of being a toy. He still wants to escape from the bonds of toydom.
Woody and Forky find themselves in the Second Chance antique store where Woody is reunited with Bo Peep, from the good old days. Bo was Andy's sisters toy and years earlier was discarded. The bond between Woody and Bo is strong, however Bo has been living as a lost toy and has had a different life than Woody. She has not had a kid for a long time.
Annie Potts returns as the voice of Bo Peep. "Bo is everything that we want to be," says Potts. "She is independent and courageous and funny and smart and able to tackle it all on her own. Her life hasn't been easy, but whose life is? She is an excellent model of making it in the face of adversity.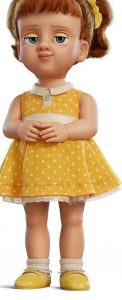 In the antique store Woody and Forky encounter a doll that has never had a kid.  Gabby Gabby, is a cute doll that came off the assembly line defective. So she has spent her entire life, since the 1950s, without someone to love her. That is all she wants – to be loved by a child. Says screenwriter Stephany Folsom, "Gabby Gabby and Woody have the exact same philosophy, which is to be there for your kid no matter what. But unlike Woody, Gabby's never actually had that experience, so she clings to the fantasy of what it would be like to be with a kid."
The escapades with all the toys – including some carnival toys – are fun and a bit disconcerting. There are some toys in the antique store that are set on capturing Woody because he has some parts that will fix Gabby Gabby. Once she is in working condition, this cute little doll knows she will attract a child who will love her with all their heart.
"I've known these characters literally half my life," says producer Jonas Rivera, who joined Pixar in 1994 as the studio's first production intern. "They're more like family to me than characters in a movie. So, I felt a sense of responsibility and excitement—and a little nervousness, to be honest—to help lift these characters and carry them forward."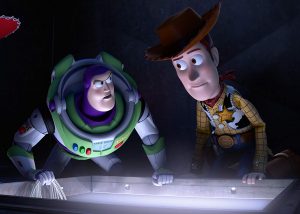 And in the end they do move forward onto their next chapters. Bring your Kleenex with you when you go. This is bittersweet. However definitely stay for the ending credits, which will help ease some of the sadness you might feel. After all, the responsibility of a toy is to be cared for and loved by a kid and to give them love in return.
Tom Hanks returns as the voice of Woody. "Bo Peep is interesting because she has made her peace," he says. "She's wise because she's actually seen the way the world works. On one hand, it's completely counter to what Woody is hip to, but at the same time Bo's outlook is the embodiment of what Woody wants, which is to be played with by children, and to make their lives happier."
Look for some references to past Pixar films. In the antiques store are awards cases from Gusteau's office from Ratatouille, furniture from The Incredibles, and props from Coco. And in the movie there is a cute nod to Up.
Toy Story 4 is the next chapter in the lives of the characters we have known and loved for decades. With several new additions to the group, it will be interesting to see if there will be more with Forky and the gang in the future.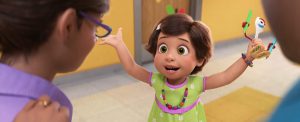 As for Bonnie, she is one imaginative little girl. She is sweet, sensitive, and definitely loves her toys. Her creativity is second to none.
Toy Story 4 is rated G. It opens in theaters June 21, 2019.
About the Reviewer
Francine Brokaw writes about books, products, travel, and entertainment. She has been published in national and international newspapers and magazines as well as Internet websites. She has written her own book, Beyond the Red Carpet The World of Entertainment Journalists, from Sourced Media Books, is the entertainment correspondent for Good Day Orange County, and has her own TV show, Beyond the Red Carpet, on Village Television in Orange County.
Follow her on Twitter