Disney Dollhouses are awesome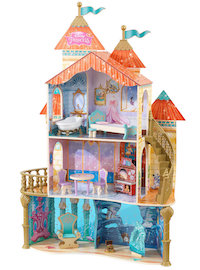 When I was little I thought my dollhouse was really great. It had two levels and several rooms. But it was a simple house. There was nothing special about it. Little kids have some great dollhouse options this year from the folks at shopDisney.com.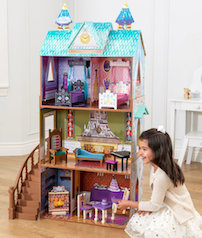 The Frozen Arendelle Palace Dollhouse is nothing short of amazing. This three-level palace is filled with the amenities any doll would love. There are beds for Anna and Elsa, a dining room, a fireplace, chandelier, fabric curtains, and a grand staircase. The five rooms inspire plenty of creativity in the spirit of Frozen. With the furniture and the architecture of the land, this dollhouse is a piece of Arendelle. It measures 54 ¼" high, 3 ¾" wide, and 15 ¾" deep. The dolls are not included but the 12" Anna and Elsa dolls will be comfortable in this Palace. (Ages 3+ $149.99)

The Frozen Ice Crystal Palace Dollhouse is spectacular. For a change from their Arendelle Palace Dollhouse, Anna and Elsa (dolls not included) will enjoy this stunning palace decked out in blues, greens, and purples. With two staircases, three levels, and four rooms, and furniture, the detail in this palace is a remarkable homage to the palace in the movie. This dollhouse measures 53 ¾" high, 37" wide, and 16 ½" deep. (Ages 3+ $259.95)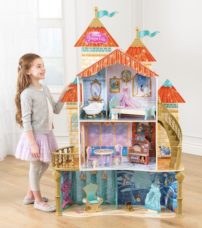 Ariel's Land to Sea Castle Dollhouse includes the best of both worlds. First, the lower level is her home "under the sea." With her father's throne room and Ariel's grotto, life in the sea is represented to its full extent. There's even a place for all her "thingamajigs." The two upper floors represent Eric's castle. Furniture, a balcony, a staircase, and the details on the walls inside and out bring the magic of Ariel's life right into your own home. This dollhouse measures 58 ¾" high, 37" wide, and 12 ½" deep. The 12" Ariel doll is not included. (Ages 3+ $169.99)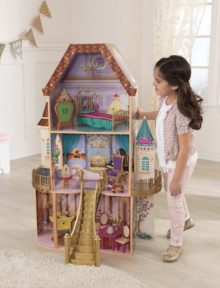 Belle's Enchanted Dollhouse brings the magic of the Beast's castle to your home. Three levels, a staircase, balconies, furniture, and many of the enchanted characters from the film spur young imaginations. With the artwork on the walls and the included furniture and accessories, everyone who loves Belle and the Beast will cherish this dollhouse. It measures 46 ½" high, 30 ¾" wide, and 20" deep. (Ages 3+ $149.99)
About the Reviewer
Francine Brokaw writes about products, travel, and entertainment. She has been published in national and international newspapers and magazines as well as Internet websites. She has written her own book, Beyond the Red Carpet The World of Entertainment Journalists, from Sourced Media Books.
Follow her on Twitter