New toys from Jakks Pacific inspire creativity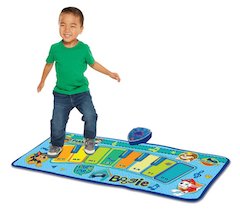 This season there are plenty of great new products from Jakks Pacific. These toys inspire creativity and build confidence as kids expand their horizons.
Real Workin' Buddies Mr. Dusty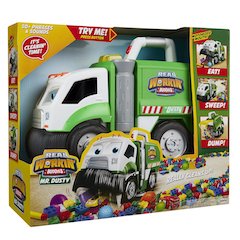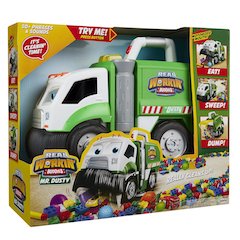 Do you have a child that won't clean up his/her mess? It's Mr. Dusty to the rescue. This adorable truck is a combination collection and dump truck. And he has a personality too. His eyes wiggle while he moves and he lights up when he talks Dusty has over 50 phrases and sounds. He is more than a talking truck. This guy is a big helper.
When kids grab his sturdy handle and move him around on the floor, Dusty opens his motorized mouth. His mustached- covered mouth opens wide and he scoops – or eats – whatever is on the ground. Of course he won't eat huge items, but he is good at scooping up blocks, Legos, small figures, and other toys. Then when he is full, simply tip him over to open his rear and he dumps out whatever he has collected into one little pile. Voila. He's ready now to go for another pass and sweep up more mess.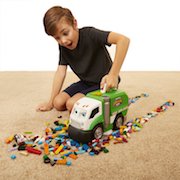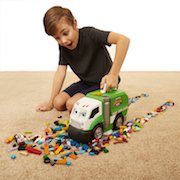 Dusty has a great personality, which comes through in his phrases. "Vroom, vroom. Let's clean your room." Cleaning time is his lunchtime and he loves helping kids clean their room. With Dusty, kids learn it's fun to clean. Actually, Dusty does the cleaning but it takes kid power to push him around.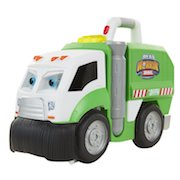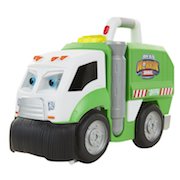 Dusty is a do-it-all truck. He eats, sweeps and dumps, but he is also a good playmate. This combination garbage truck, street sweeper, and dump truck is recommended for ages 3 and up. He works on hard floors and carpets too. Real Workin' Buddies Mr. Dusty lists for $39.99.
BIG-FIGS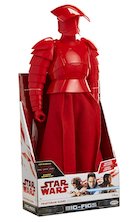 Whether your child loves Star Wars or the characters from
Justice League, there's a giant BIG-FIG ready for fun and action. Imagination is the key with these overgrown heroes.



The latest film in the Star Wars franchise, The Last Jedi, is coming to theaters this holiday season. The characters will undoubtedly ignite the interest of kids of all ages. With a BIG-FIG they will be able to recreate scenes from the film or make up new ones. The characters are between 16 and 18 inches tall. They are articulated to pose and play.
Besides the Star Wars BIG-FIGS there are Justice League figures as well. Batman, Superman, Wonder Woman, The Flash, Aquaman and Cyborg come alive in a child's hands. Costumed in their traditional garb, these big fellows are great for taking to the playground, in the car, or anyplace.
For ages 3 and up, these BIG-FIGS list for $19.99 each.
Paw Patrol Electronic Music Mat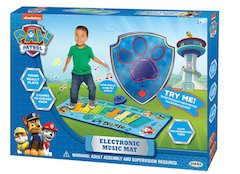 Do you remember in the 1988 movie Big when Tom Hanks and Robert Loggia hopped around to perform a duet on a giant piano? Well, the Paw Patrol Electronic Music Mat isn't exactly that but it comes close.
For ages 3 and up this mat teaches music skills and appreciation with the help of the Paw Patrol. The mat has three options. When the Piano button is pressed, the eight soft "keys" represent the notes on a piano. Do, Re, Mi, Fa, So, La, Ti, Do. Kids can play their own piano with their hands or feet.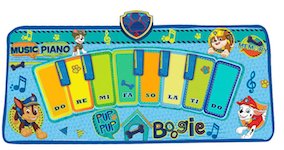 To listen to pre-programmed tunes, simply press the soft Music button. Kids can dance along to the songs from their Paw Patrol characters.
The Memory button is the most fun as kids are challenged to repeat the notes played for them. The notes don't light up so they really learn piano notes. It might be a bit daunting for some kids in the beginning, but they'll soon get the hang of it. As they say in the game, "Practice makes Paw-fect."
The mat measures 36 inches wide. Small feet or hands can easily reach the different keys. Batteries are required.
About the Reviewer
Francine Brokaw writes about products, travel, and entertainment. She has been published in national and international newspapers and magazines as well as Internet websites. She has written her own book, Beyond the Red Carpet The World of Entertainment Journalists, from Sourced Media Books.
Follow her on Twitter