DreamWorks Color App is Fun for Everyone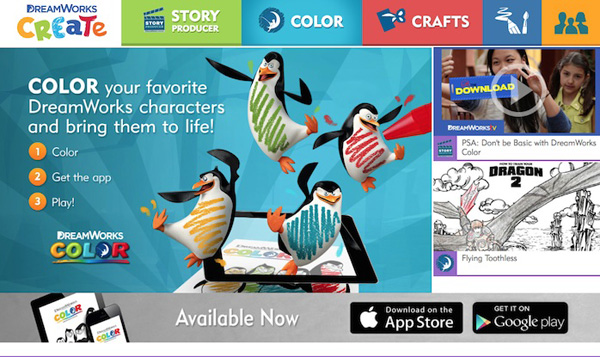 DreamWorks and Netflix have joined together to create several fun shows for kids and families. And to go along with them there are plenty of great products and activities. One amazing activity is the new DreamWorks Color app, available for free from the App Store and Google play. With this app users are able to animate characters from some films and shows, including Toothless from the new Netflix series "Dragons: Race to the Edge."
This is really inventive and easy to use. Simply print one of the coloring pages, color in the character or item, scan it into your computer/tablet, and voila. In a few seconds you are able to see your artistic endeavor animated and can play with it in several ways.
Be creative and let your imagination soar. And in the case of Toothless, watch him and Hiccup soar above the water. And the great part about this for kids is they don't have to color inside the lines. They can be a bit messy, as most little ones are, and they can make Toothless pink, purple, or in my case, neon yellow. Then once scanned into the app, Toothless takes flight.
This is amazing. Technology and imagination combine in this fun app for all members of the family. But don't take it from me. Try it yourself. Let your kids color Toothless, letters, shapes, or one of the other offerings and then see them animate via the app. There will be more coloring pages in the future.
Once "Dragons: Race to the Edge" premiers on Netflix June 26, Toothless will definitely be a fan favorite for all ages and they will be amazed and amused with their own colored dragon, even if it does have hearts and flowers on his wings. I admit I did color in hearts on my dragon and it was fun to see him take flight. And for smaller kids, letters, numbers, and shapes come to life when they color their own and see them animate on screen. There is a lot more to this app. Check it out at DreamworksColor.com.
About the Author
Francine Brokaw has been covering all aspects of the entertainment business for over 20 years. She also writes about technology and has been a travel writer for the past 15 years. She has been published in national and international newspapers and magazines as well as Internet websites. She has written her own book, Beyond the Red Carpet The World of Entertainment Journalists, from Sourced Media Books.
Follow her on Twitter
Like her on Facebook