Easy-Reach Toaster Oven from Hamilton Beach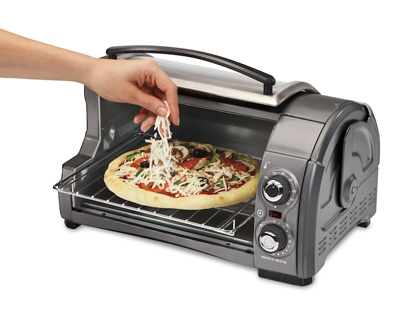 There's not much new a company can do to a toaster oven. Or is there? Hamilton Beach has an "Easy-Reach" model, and it is definitely a step forward in the world of toaster ovens.
The roll-top door makes it easier to reach inside the oven to work with whatever you are baking, broiling, or toasting. The rack is large enough for four slices of regular sized bread or a 9-inch pizza. And the product is very attractive.
So, you might be thinking, why do you need a roll-top door? You might not, but it does come in handy for a variety of things, not the least of which is removing the contents from the oven. Besides this feature, the oven has a 30-minute timer and settings for baking, broiling, and toasting, as well as a baking pan and broiling rack. The rack can be placed on two different levels in the oven.
Okay, so now you're thinking that this is a pretty cool idea, right? With easy access to the contents of the oven as well as easy cleaning, this is a nice little unit.
I have some great recipes that really benefit from the roll-top door. One is what I call, "cottage cheese toast." This is something even kids enjoy.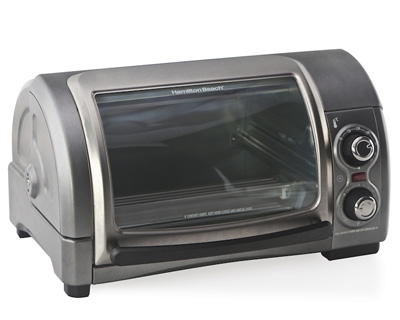 To make "cottage cheese toast," simply spread a layer of cottage cheese on a piece of bread. Then sprinkle with cinnamon sugar. Place the bread in the oven and broil until the cinnamon sugar has melted and the cottage cheese is hot. Remove the cottage cheese toast. Now here is where this Easy-Reach Toaster Oven comes in handy. With other toaster ovens this requires some maneuvering so the cottage cheese doesn't spill over the bread. And believe me, I have had plenty of cottage cheese spill in my toaster ovens. With the roll-top door, it's easy to retrieve the toast without any difficulties. And, during the heating process it's simple to add more cinnamon or even test the temperature of the cottage cheese without having to remove the toast.
Try this recipe and your kids will thank you. It's a great breakfast or after school snack. While I cannot take credit for inventing this delicacy, I can say it is something my family has enjoyed for many years.
The Hamilton Beach Easy-Reach Toaster Oven lists for $49.99.
About the Author
Francine Brokaw has been covering all aspects of the entertainment business for 20 years. She also writes about technology and has been a travel writer for the past 12 years. She has been published in national and international newspapers and magazines as well as internet websites. She has written her own book, Beyond the Red Carpet The World of Entertainment Journalists, from Sourced Media Books.
Follow her on Twitter
Like her on Facebook