Dyson DC59 Motorhead Cordless Vacuum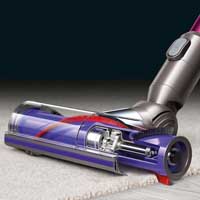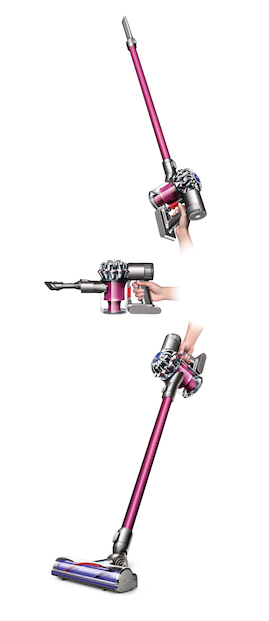 The latest and greatest from Dyson is the New DC59 Motorhead cordless vacuum. With a new V6 digital motor in the cleaner head, it provides 75% more power than previous models.
This cordless machine works great on hard floors, but also just as well on carpets, which is something cordless vacuums usually are less efficient at doing. That makes the DC59 Motorhead the only vacuum necessary for many people. No longer do you need a cordless vacuum for your tile, hardwood, and linoleum, and an upright for your carpets. This one unit does it all without losing power.
Dyson has created a new color for their new machine. The lightweight aluminum wand is dark rose. It's really an attractive color, but that's incidental when it comes to this vacuum. What matters most is performance and ease of use.
The performance is great. Owner and vacuum guru James Dyson, said, "Existing cordless machines simply do not deliver on carpets. By putting a motor directly in the brush bar, we're able to push bristles deeper into carpets for superior performance, while maintaining the versatility of a handheld machine." And there is no slowing down while the unit is on. It maintains the power throughout its use, which is meant for approximately 24 minutes of continuous use. There is a Max Mode for more difficult areas. This mode supplies up to six minutes of added suction. It's like putting the machine on steroids!
And switching the tools is easy. There is a crevice tool, a mini motorized tool, and a combination accessory tool. What is important to me as well as other allergy sufferers is the way it easily empties directly into a trashcan. No mess. No bags. Just click the button and release the dust. And there will definitely be a lot of dust. This powerful unit picks up even microscopic dust. Allergy sufferers take note. This is an important element to the vacuum. You will be breathing easier when the junk is out of your floors, upholstery, and other areas.
Besides using this with the long wand, it can be use as a small hand-held vacuum for stairs, cars, and other areas. It makes the perfect vacuum for an RV too! The DC59 Motorhead comes with a wall mounted docking station, which stores the unit and recharges the battery when not in use.


Dyson guarantees the DC59 Motorhead for 2 years parts and labor. Register your unit when you get it to activate your warranty.
The DC59 Motorhead is a vacuum that even youngsters can use. Just detach the vacuum from the dock and hand it to your youngster. Tell them to "Suck it up!" It's easy and cordless. And, they might even enjoy doing some housework. Now that's a great idea.
On a personal note, I am sold on Dyson products. I feel they are well made and durable. I do not hesitate recommending this new DC59 Motorhead to anyone in need of a new vacuum. With the lightweight versatility of the unit, and the length of the wand, it's easy to clean up high as well as down low. With a weight of under 5 pounds, it's easy to hold and maneuver.
For more information about this latest and greatest cordless vacuum from Dyson, go to their website at www.Dyson.com.
About the Author
Francine Brokaw has been covering all aspects of the entertainment business for 20 years. She also writes about technology and has been a travel writer for the past 12 years. She has been published in national and international newspapers and magazines as well as internet websites. She has written her own book, Beyond the Red Carpet The World of Entertainment Journalists, from Sourced Media Books.
Follow her on Twitter
Like her on Facebook