Fingerprint Play & Digital Learning Co, Kids Learn Mandarin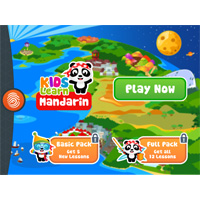 Kids Learn Mandarin takes a progressive and playful approach to teaching kids ages 3-8 to read, write and speak 240 Mandarin words through 12 fully interactive lessons that cover a variety of subjects…numbers, colors, animals, food, sports, transportation and more. Hosted by Pei Pei the Panda, Kids Learn Mandarin includes 96 mini-games, 12 lively music videos, 12 Chinese character-writing lessons and a personal playground that kids can decorate with stickers they earn as they learn!
Kids Learn Mandarin for Fingerprint features the networks acclaimed progress reporting, which provides interactive updates to parents on their child's achievements, subject mastery and suggested next lesson.