Bookboard by Bookboard, Inc.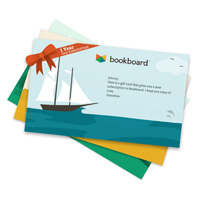 Designed to motivate kids to read, Bookboard is a digital library subscription service with over 400 books for kids up to age 12 to discover, unlock, and collect. The service grows with the kids' reading level and interests, and reinforces the experience of story time with reward that instills a love of reading in kids by gradually unlocking more books as they read.
Bookboard is unique in its ability to motivate and engage kids to read more. Christine Ying of TechCrunch reported, "Bookboard has really identified something to keep my kids engaged and motivated…" "In addition, the service provides a curated reading experience so kids can easily find the next great book." Jordan Shapiro of Forbes commended, "A thoughtful librarian delivered instantly to your home.
The KEY FEATURES:
*Ever-growing library without the hassles of downloads and payments. Kids are empowered to choose from a huge selection of books and start reading,
*Incentives to keep kids reading. As kids read, they're rewarded by unlocking new books to add to their collections, and they'll keep coming back to discover the next story. As the reader's interests and reading levels change, Bookboard also changes with them.
*Thoughtful librarian delivered instantly to your home. Bookboard suggests additional stores based on what children have been reading, right when they're most interested. At the core of the service is the selection of books, which is curated by a real librarian and personalized for individual readers.
*Optimized reading experience for both children and parents. Bookboard emphasizes the important of co-reading and story time, the interactive experience of parents and children choosing books together, and the simplicity of finding and unlocking new books together.