Green Golly & her Golden Flute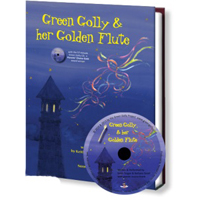 Green Golly & her Golden Flute, a beautiful new picture book-with-audio, based on the Parents' Choice® Gold Award winning recording by the same name, introduces children to the magic of classical music via a whimsical re-working of the traditional tale of Rapunzel. A keen observer of all that whizzes by her window, Rapunzel's modern- day alter ego, Green Golly, is inclined to rely on her musical abilities to help unravel the mysteries of life in this funny, engaging tale of romance and rescue, interwoven with works of Mozart, Mendelssohn, Schubert, Gossec, Elgar, Bizet, Chopin, and Copland.
Available for purchase now at www.greengolly.com and www.eifrigpublishing.com. As of October 15, also available at Amazon.com and at retailers nationwide.