VitaSound Personal Audio Enhancer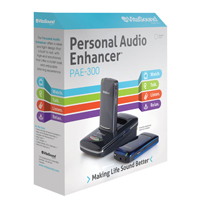 Simply put, the PAE-300 is the most sophisticated hearing enhancement product on the market today. Designed for those with early-stage hearing loss, the PAE-300 helps users better hear and distinguish sounds in situations where background noise or low-sound levels make hearing difficult. Whether in noisy environments such as restaurants, busy streets, and crowded rooms, or during those quiet moments such as watching TV, chatting on the phone, and even taking a walk in the park, user's benefit from improved sound quality and a natural listening experience. As the ONLY multi-functional device of its kind on the market today, the PAE-300 features four unique sound modes – Watch Mode. Talk Mode. Listen Mode. and Relax Mode. – which provide users with an enhanced hearing experience during everyday 'hard to hear' listening situations; primarily while watching TV, conversing in noisy environments, talking on a cellphone, or listening to music through an MP3 player.
VitaSound Audio Inc., released their Personal Audio Enhancer (PAE-300) earlier this year and it is getting rave reviews, not to mention providing a lot of relief for people suffering from situational hearing difficulties. The PAE-300 is the FIRST multi-functional audio enhancement device on the market! Featuring four sound modes, the PAE-300 is affordable and provides an alternative for those who are not yet ready for hearing aids.
Available at Amazon, D&H, OakTree Products, Teltex, Herrington, Harris Communications