Lunch Mail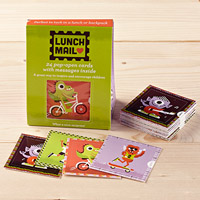 Each colorful, illustrated pop-open card reveals a positive message, such as "Anyone who has never made a mistake has never tried anything new." Parents can tuck a Lunch Mail card into their kid's lunch box or backpack and set them on a positive track for the rest of the day. There is also room on the back of each card to include a persona note.
The boxed set is designed around a different theme (food, monsters, animals, etc.) and includes 24 pop-open cards, each containing a different message inside.
Compendium is a Seattle-based book and gift company with the goal of encouraging meaningful moments through inspiring gifts that make a positive difference.