Sing To Your Baby App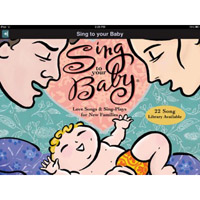 Sing To Your Baby was created to help families connect through music. Available in a book/CD combination or a free iPad App. The application comes pre-loaded with one free song, which includes four tracks, along with a Parent Guide. Additional songs are available for $1.99 per song.
*Sing along as the words scroll in time to the tune and learn the songs as Cathy, Marcy or Mike sing with you,
*Record your voice for your baby as the vocal or instrumental versions play, with scrolling lyrics. Then your baby hears YOUR voice singing along to the music. It can be replayed over and over and added to your permanent library,
*Play along on ukulele, guitar or any instrument as the chords scroll by. You are the star in your baby's world,
*Record your baby or older siblings singing with you,
*Create recorded memories that will bring you and loved ones joy for a lifetime,
*Share your recording via e-mail or on Facebook then your family and friends can enjoy with you.