Yvolution: Y Fliker Carver Series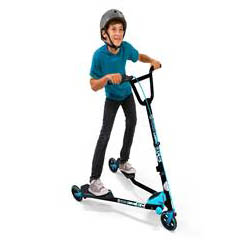 Following the success of its Y Fliker Flow Series of innovative, self-propelling three-wheeled scooters, Yvolution introduces the Y Fliker Carver Series of scooters. Like the Y Fliker Flow Series, these scooters are all body-powered. Riders step on the platforms and move their hips and legs from side to side (just like downhill skiing) to get going and keep moving. Y Fliker Carver scooters feature a sleek design and special patented FLEX technology that provides riders with instant flexibility and a smooth ride unlike any other scooter. It allows riders to simply lean and swing the handlebars using their arms to make sharp turns with a smaller turn radius and maintain balance at greater speeds, all while exerting less energy. New-tech casters provide quicker propulsion and spinning fun. The quick response hand brake offers increased control and ensures a safe ride. Padded handgrips ensure comfort and proper hold. Footplates offer superior grip for drifting and carving. Features a twist & fold mechanism for easy transport and storage.

Y Fliker C1 Carver (Stage 3: Primary)
Ages 5+ (max weight 220 lbs); MSRP: $129.99; Available in black/red.

Y Fliker C3 Carver (Stage 4: Pre-teen)
Ages 7+ (max weight 220 lbs); MSRP: $149.99; Available in black/blue or black/green.

Available October 1, 2013 at Toys"R"Us stores nationwide and online at www.Toysrus.com/Yvolution.