101 Dalmatians Now on Blu-ray
Category:
Blu-ray's and DVD's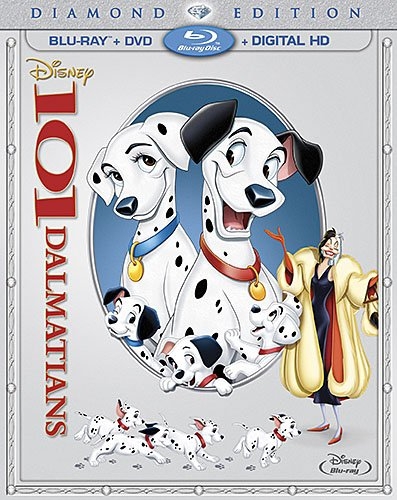 This animated movie was the highest grossing film of 1961 and had it not been for some new technology, it might have been the last animated film for the Disney Studios. 101 Dalmatians is a classic movie about an adorable litter of Dalmatians who are coveted by the evil Cruella De Vil for their coats. Actually, she wants their coats to make one big coat for herself. How "cruel-la" is that?
Anyway, the fun of these little characters on screen was matched by the fun of the filmmakers off screen. The Diamond Edition includes not only the adorable and classic animated movie (which, incidentally won the BAFTA Award for Best Animated Film), but also many new bonus features along with the classic features that were released in previous editions. The Diamond Edition contains a Blu-ray disc (the first time this film has been available on BD), a DVD, and a Digital HD, also for the first time.
In the early 1960s TV was really coming into its own, and people didn't go out to the movies as often as they had before. This was a consideration for movie studios, but also, animation was becoming less popular and more time prohibitive. If it hadn't been for the Xerox desktop copy machine, animation might be history. Yes, Xerox literally saved the animation film industry. This is one of the interesting features included in the bonuses. Also included are Disney filmmakers describing how "working for Disney was just heaven." They played gags on each other and had fun all the time. If Disneyland is called "The Happiest Place on Earth" then the Disney Studios should have been called "The Happiest Place to Work on Earth." It's fun just hearing them talk about the old days.
Another cute bonus is the "Further Adventures of Thunderbolt," the TV cartoon the pups enjoy watching in the movie.
Then viewers get "The 411 on the 101" hosted by Disney Channel's Cameron Boyce, who will play Cruella De Vil's son in the upcoming TV movie Descendants. Cameron lists five interesting facts about the movie 101 Dalmatians which are interesting and possibly eye-opening to fans of the film (hint: keep an eye out for #2).
Walt Disney himself makes an appearance in the bonus features and introduces his own "Lady," a miniature poodle, while discussing a Disney TV show about dogs that was "a tribute to dogs everywhere." Dog lovers will enjoy this feature.
101 Dalmatians is rated G.
About the Author
Francine Brokaw has been covering all aspects of the entertainment business for 20 years. She also writes about technology and has been a travel writer for the past 12 years. She has been published in national and international newspapers and magazines as well as internet websites. She has written her own book, Beyond the Red Carpet The World of Entertainment Journalists, from Sourced Media Books.
Follow her on Twitter
Like her on Facebook