Syncopation on Blu-ray
Category:
Blu-ray's and DVD's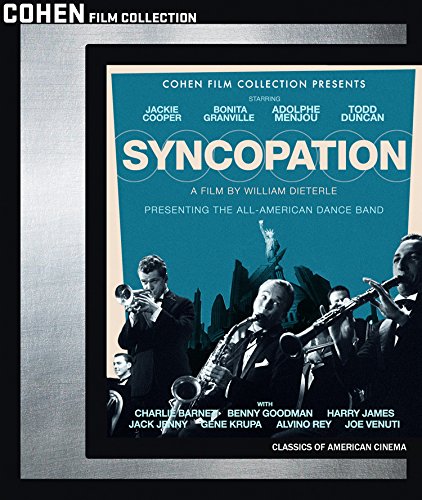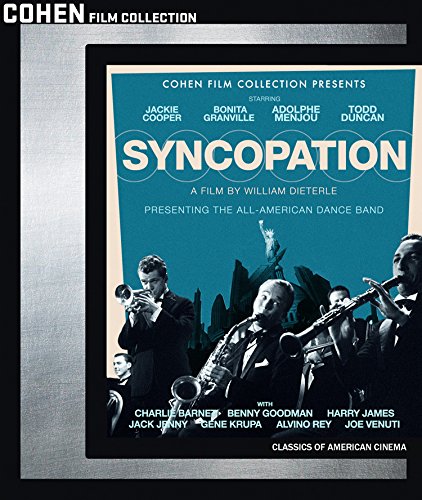 Syncopation is a 1942 musical extravaganza for jazz fans. Jackie Cooper plays a trumpet player who falls for a New Orleans piano player, played by Bonita Granville. While their love story unfolds over the years, the main star of the show is the music, namely jazz.
The first half of the 20th century was the Age of Jazz. This film includes all kinds of jazz: Dixieland, ragtime, blues, and swing. If you aren't into music, specifically jazz, you probably won't enjoy the full extent of the songs and the story. But if you love this kind of music, by all means, treat yourself to the film.
Besides this core story of the rise of jazz combined with the minor love story of the two main characters, there are performances by Benny Goodman, Harry James, Gene Krupa, Charlie Barnet, and Alvino Rey. The film has been remastered and restored.
This release includes nine shorts about the music and the musicians. The shorts are:
"Symphony in Black" (1935 w/Duke Ellington and Billie Holiday)
"Rhapsody in Black and Blue" (1932, w/Louis Armstrong)
"St. Louis Blues" (1929, w/Bessie Smith)
"Cab Calloway's Hi De Ho" (1933)
"Bundle of Blues" (1933, w/Duke Ellington)
"Hoagy Carmichael" (1939, w/Carmichael and Jack Teagarden)
"Artie Shaw's Class in Swing" (1939, w/Shaw)
"Jazz a la Cuba" (1933, w/Don Azpiazú)
"Black and Tan Fantasy" (1929, w/Duke Ellington and Fredi Washington)
Needless to say, this is a treasure for jazz fans.
Syncopation is now available on Blu-ray and on DVD. It's not rated.
About the Author
Francine Brokaw has been covering all aspects of the entertainment business for 20 years. She also writes about technology and has been a travel writer for the past 12 years. She has been published in national and international newspapers and magazines as well as internet websites. She has written her own book, Beyond the Red Carpet The World of Entertainment Journalists, from Sourced Media Books.
Follow her on Twitter
Like her on Facebook