Bing Crosby Rediscovered on PBS
Category:
Television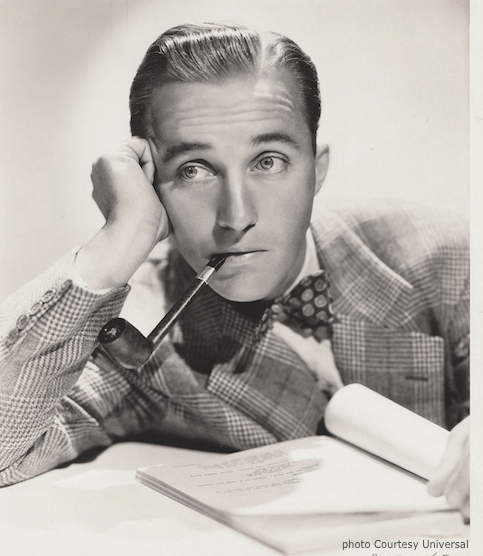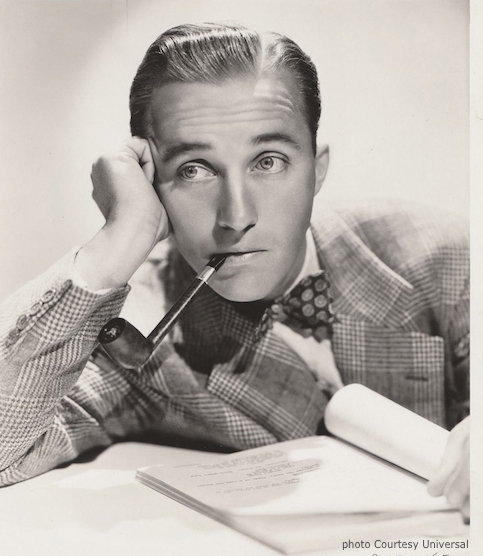 American Masters presents a new documentary, Bing Crosby Rediscovered. This new film explores the life and career of America's Crooner. Bing Crosby is still the most recorded performer in history, and his rendition of "White Christmas" fills the airwaves every year.
Thirty-seven years after his death, Crosby still commands respect in the entertainment world. From his radio shows, his movies (musical, comedy, and drama), his shows for the armed forces, and his television shows, Bing Crosby proved he could handle anything, and handle it with ease. His calm, easy-going style appealed to men and women alike.
Recently at the Television Critics Association Press Tour, the Crosby family conversed with members of the press about their lives and this new film.
"I found some old scripts where he was changing the dialogue," his widow Kathryn Crosby acknowledged. "He wrote for himself. He learned to write for himself, and he knew how to sing."
Thanks to Bing's love of technology, for the first time we are able to hear him in a way no one has before. Mary Crosby, his only daughter, explained "There was so much material that was used in this that's never before been seen and letters from Dad. He was an incredibly prolific letter writer, and he put everything on dictaphone, which was very new technology at the time, so there's so much that just really nobody's ever seen or heard, so this is a really in‑depth look at Dad in a way that's completely new, and I'm very proud of it." And indeed there is a side of Mr. Crosby that unfolds in this documentary that displays a new dimension to this very interesting man.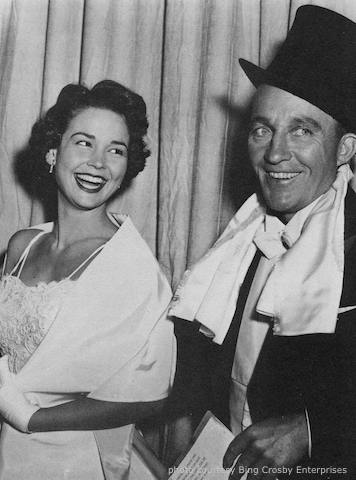 Mary added, "It was kind of great because he thought outside of the box. Sort of like, 'I don't want to do two shows a day. How can I figure out a way to actually make it work?' Or 'Frozen foods, how does that work?' So he was really involved in some things that were really outside of the box at the time." Because of Bing's interest in technology and how it could make life simpler, he was a pioneer in many respects.
Mary, Nathanial, and Harry Crosby were eager to tell the journalists about their personal experiences with their father. Bing's first wife and their four sons are no longer living. Much has been written about Bing and his first family, which maligns his role as husband and father. But what his second family has nothing but praise for their father.
"He was an unbelievable father for different reasons, but he really concentrated on us one‑on‑one," Nathanial explained. "With Harry, it was hunting and taking him to the duck club on the weekends. With me we shared our love of sports together. We would have two tickets, season tickets, to the 49er games at Candlestick, and he would wear the overcoat and the hat, and nobody, except the people in the immediate section, even knew who he was. He was very unassuming, and was concentrating on me during those games, unless he had to go down and sing the 'Star Spangled Banner,' which he did once."
Mary proudly admitted, "The one great thing about him was he was completely supportive of whatever we decided to pursue."
Family Favorites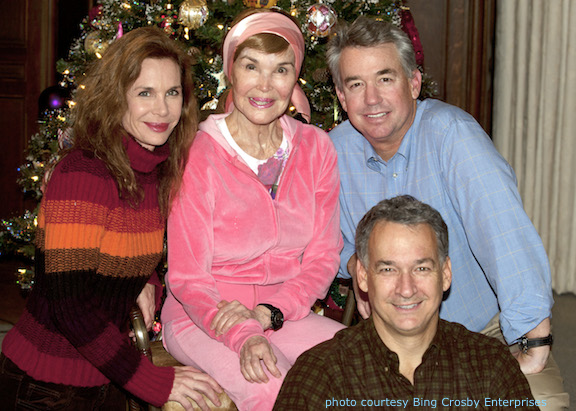 With the wealth of films and recordings, I was curious about the family favorites, so I asked each member of the family what was his/her favorite Bing Crosby song and movie. Kathryn replied with an interesting story that is not in the documentary.
"Well, I like several of them, but I met him on the set of White Christmas. So that might give him an edge there. I was a new contract player at Paramount Pictures. I was one of the Golden Circle. And I also was writing a column home every week to the Brazoria County News. I got $5 a column. And the publicity man asked me who I'd like to interview. I interviewed Charlton Heston in a movie about ants. I interviewed Bob Hope in Casanova's Big Night. I met him before I met Bing. Then we went to see [the set of] White Christmas. And I met Bing on the set and interviewed him. And he was a very dear interview. I didn't know any proper questions to ask. I wasn't well prepared. But we sat, and we talked, and he talked to me. And at the end of the interview, he said, 'How about dinner Friday night?' And I said 'Yes. Thank you.' And Frank Riser, who was from the publicity department, said, as we walked off the set, 'Now, that's what I call getting an interview.'
"And then we had our first date, which was a cup of tea at Lucy's across the street. If that's not glamour, I don't know what is. And then we had dinner. That went on for four years till I'd enjoyed about as much of that as I could stand.
And then he said, 'How about dinner?' And I said, 'Thank you, no. I've been to dinner.' And then he wanted to visit with me again. I said, 'Thank you, no." And then he talked to Aunt Mary, and then we flew to Las Vegas and we got married the next day." There's no doubt she stood her ground and ultimately got the love of her life.
Nathaniel told me his favorite song is "Ghost Riders in the Sky." As for his favorite Bing Crosby film? "I thought Country Girl was the great film and really enjoyed. But, of course, White Christmas is always a favorite each time of the year. It makes you feel good about human spirit and feel good about doing the right thing for the old general."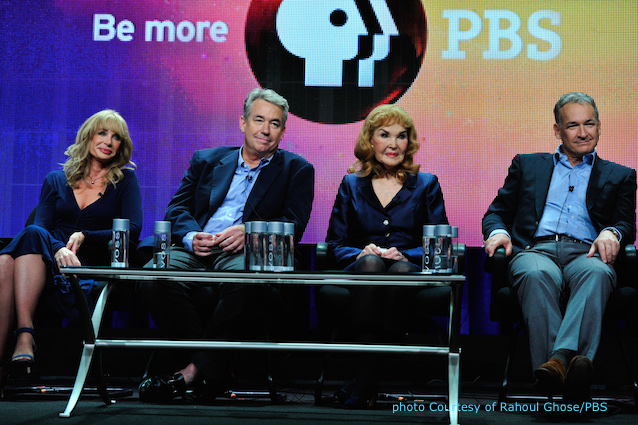 Mary Crosby was hard pressed to come up with her favorites. " Growing up as children, we really loved the 'Road' shows because they were just so much fun, and they were so funny. And, you know, around Christmas we still watch the Christmas movies. And my children didn't get to meet Dad, and so that's definitely part of how they know their grandfather." She said she and her father sang Moonlight Becomes You together. "That was our duet. And so I love that deeply."
Harry discussed how the "Road" shows were entertaining. "And 'Gone Fishing' is kind of a favorite song that I remember that he did with Louis Armstrong and was happy to sing with him on a lot of these shows that we did together."
For an interesting and private look at the life and career of Bing Crosby, check out American Masters' Bing Crosby Rediscovered on PBS. It premiers Tuesday, December 2, 2014 with an encore presentation Friday, December 26, 2014.
About the Author
Francine Brokaw has been covering all aspects of the entertainment business for 20 years. She also writes about technology and has been a travel writer for the past 12 years. She has been published in national and international newspapers and magazines as well as internet websites. She has written her own book, Beyond the Red Carpet The World of Entertainment Journalists, from Sourced Media Books.
Follow her on Twitter
Like her on Facebook