Bring Home 'Ferdinand' on Blu-ray + DVD
Category:
Blu-ray's and DVD's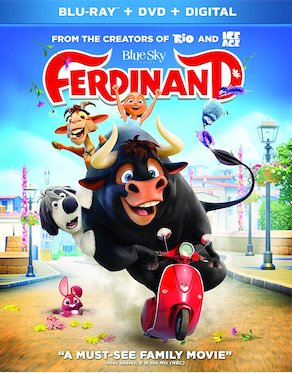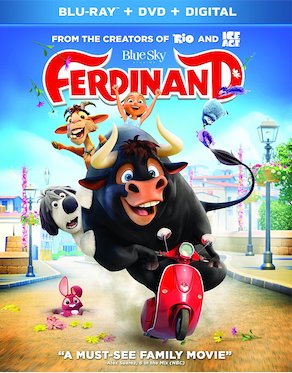 Ferdinand is a sweet story about a kind bull that spreads love to everyone. This little guy admires flowers and is kind to all those around him, even the other bulls that think he's a coward. But he's no coward; he just doesn't want to fight. What's the point in fighting when there are flowers to sniff and kids to play with?
This little fellow starts out life on a bull ranch where matadors come to select the bulls they will fight in the ring. After his father is killed (not on camera), Ferdinand runs away and is found in the country by a caring little girl who brings him back to her farm where she and her father and their dog raise the kind-hearted little bull. But he doesn't stay little for long.
Then, due to circumstances that he really didn't intend to happen, Ferdinand is captured and sent back to the bull ranch. There he is reunited with his old gang and some new characters. But he is still the compassionate, flower-loving, sweet Ferdinand they remember.
The story is bittersweet in that Ferdinand and the other bulls discover no bull ever wins in a bullfight. Every time a bull fights a matador, he loses – his life. But Ferdinand's desire to get back to the farm and his "family" is stronger than anything and in the end he manages to save not only his own life, but all his friends as well. So, yes, this does have a happy ending although some kids might be a bit disturbed to learn that bulls die after every bullfight.
Bonus features include 12 different featurettes, which are geared mainly to youngsters. John Cena, who voices Ferdinand, says he's a lot like his on-screen bull. He also teaches kids how to have a healthy life by eating good food, exercising, and being kind to others. And Lupe, the goat who tries to mentor Ferdinand in the film, talks about living a good life as well. There is a featurette about Ferdinand's friends and a dance lesson with the big guy. Director Carlos Saldanha says he wanted the film to capture the "flavor of Spain," and immerses the viewers in the Spanish culture and atmosphere.
Ferdinand was nominated for an Academy Award and several other awards, including a Kids' Choice Award. It is available on a Blu-ray + DVD + Digital combo as well as a 4K combo and a single DVD. Ferdinand is a sweet film however it is rated PG for rude humor, action and some thematic elements.
About the Author
Francine Brokaw has been covering all aspects of the entertainment industry for over 20 years. She also writes about products and travel. She has been published in national and international newspapers and magazines as well as Internet websites. She has written her own book, Beyond the Red Carpet The World of Entertainment Journalists, from Sourced Media Books.
Follow her on Twitter