Bring home 'Storks'
Category:
Blu-ray's and DVD's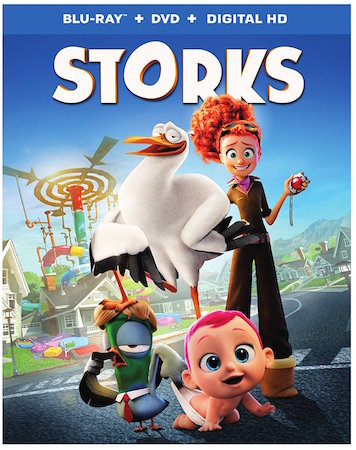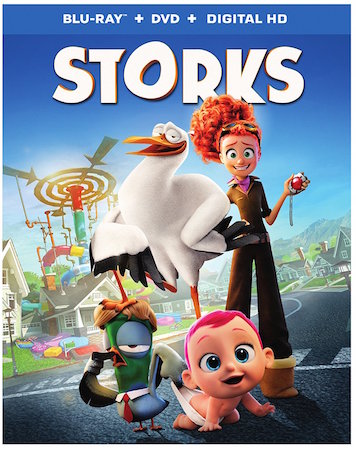 Storks delivers some really cute scenes (pun intended). It's a clever animated film for the entire family.
A long time ago storks were the way people got babies. But things changed and the storks moved into another business – delivering packages. They hadn't delivered babies in a very long time.
Little Nate Gardner is a lonely little boy. He's an only child of two hard-working parents. The little guy is sad. He decides he wants a little brother so he abruptly informs his parents of that fact. When they tell him that that's not going to happen, Nate accidentally discovers an old pamphlet in the attic advertising the storks delivery of babies. So, what does this little fellow do? He immediately writes to the storks ordering a baby brother – with Ninja skills.
The letter arrives at the storks' factory and finds its way into the hands of the only human working in the facility. Tulip was going to be delivered to her parents 18 years ago but the location finder – or GPS – for her house was destroyed so she ended up staying with the storks. As a stork employee she's a screw up, and when the letter arrives she sends it off to the baby factory. Poof! A baby girl is created. Now it's up to Tulip and a hard-working stork named Junior to get this little baby to its home before anyone finds out that Tulip mistakenly turned back on the baby making machine.
What ensues is some fun action as they try to get the little bundle of joy to her appropriate home. Along the way they meet a pack of wolves that decide they want the baby for themselves. Who can resist that adorable face and sweet laughter? But the baby needs to get to her home and Junior and Tulip forge on.
Meanwhile, Nate is hard at work making a slide for the baby to be dropped into by the storks. When his parents see this they try to stop him but soon discover that their work is second to their child. The family bonds together and for the first time Nate is not lonely. He is happy spending time with his parents and they are happy being with him.
Well, through a bunch of screw-ups everything works out for the best, and the baby-making machine is back in business, at least for a while. You have to see all the cute little babies it creates.
Bonus features include deleted scenes and a "how to" featurette about taking care of a baby. It's a little unconventional.
Andy Samberg, Kate Crown, Kelsey Grammer, Jennifer Aniston, Ty Burrell, and Anton Starkman provide the main voices. Needless to say, this is a cute little film that is filled with imagination.
Storks is rated PG for mild action and some thematic elements. It's available on Blu-ray, Blu-ray 3D, DVD, and 4K packs.
About the Author
Francine Brokaw has been covering all aspects of the entertainment industry for over 20 years. She also writes about products and travel. She has been published in national and international newspapers and magazines as well as Internet websites. She has written her own book, Beyond the Red Carpet The World of Entertainment Journalists, from Sourced Media Books.
Follow her on Twitter