Doctor, You've got to be Kidding on DVD
Category:
Blu-ray's and DVD's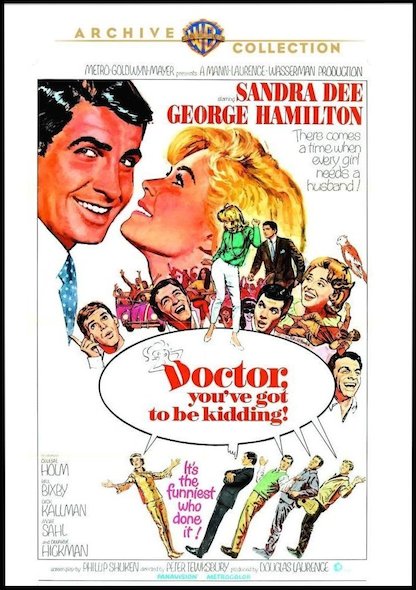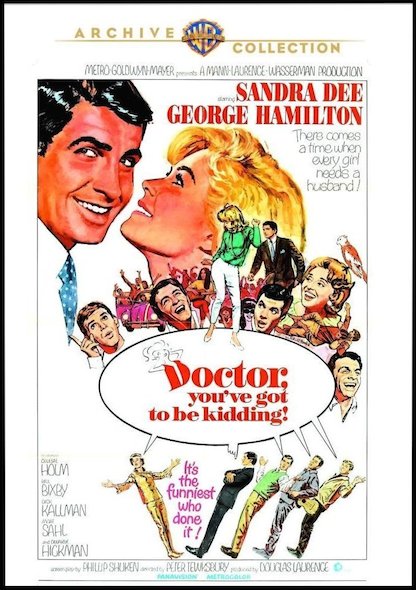 Sandra Dee stars in this 1967 movie eight years after she captured the hearts of film audiences in "Gidget." "Doctor, You've got to be Kidding" is all Dee's film. She carries it with fun and flair.
As Gidget in 1959 and Tammy in 1961 and 1963, Dee played fresh, wholesome characters. In the popular film "A Summer Place" in 1959 Dee strayed from that image as a young woman who finds herself in a delicate situation being pregnant and single. That is basically the plot of this movie.
Dee plays Heather, a woman who just graduated from college and takes a job as secretary to Harlan Wycliff (George Hamilton), one of the most influential businessmen in the world. Her mother (Celeste Holm), however, has been pushing her daughter into show business ever since the girl could stand up, auditioning her in elevators and basically pushing her into the business.
Heather has several male admirers, yet her heart belongs to her boss Harlan. While rehearsing all night and working all day, Heather manages to do her job and put together an act at the same time. But something happens to derail both of these. This vestal virgin manages to get pregnant. Meanwhile, her male protectors/admirers (Bill Bixby, Dwayne Hickman, and Dick Kallman) all vie for her attention and each wonders which one is the father. Of course, Heather has only been with one man, Harlan, and only one time.
While this is not Dee's best movie, she is fun to watch. No matter what character she plays, Sandra Dee is adorable. Other Dee films that should be viewed are "If a Man Answers", "I'd Rather Be Rich", "Rosie", and "That Funny Feeling". In 1959 Dee won a Golden Globe for "Most Promising Female Newcomer." Sandra Dee was married to Bobby Darin from 1960 – 1967 and had one son. She passed away in 2005. Although she will always be remembered as Gidget, her array of film roles is entertaining and diverse.
"Doctor, You've got to be Kidding" is not rated. It is part of the Warner Archive Collection and can be ordered at their website www.wbshop.com.
About the Author
Francine Brokaw has been covering all aspects of the entertainment business for over 20 years. She also writes about technology and has been a travel writer for the past 15 years. She has been published in national and international newspapers and magazines as well as Internet websites. She has written her own book,  Beyond the Red Carpet The World of Entertainment Journalists, from Sourced Media Books.
Follow her on Twitter
Like her on Facebook