Gilmore Girls Return
Category:
Television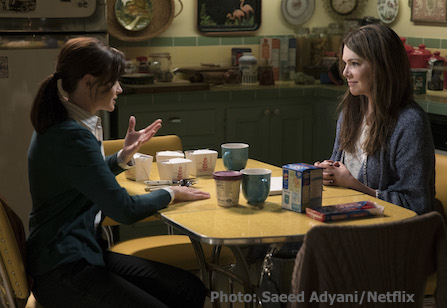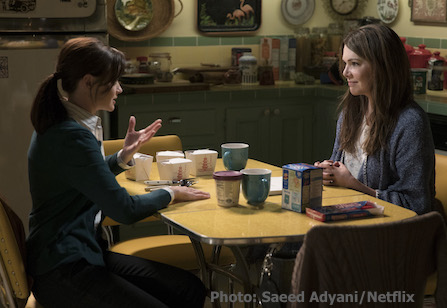 Stars Hollow is resurrected in the four installments of Gilmore Girls: A Year in the Life, showing on Netflix. The popular series Gilmore Girls (2000-2007) became a viewing experience for families. Lauren Graham and Alexis Bledel starred as mother and daughter trying to make their way through life. They were known for their fast-talking, spirited and witty dialogue. Fans have been clamoring for their return, and Netflix is accommodating them with four 90-minute episodes, each dealing with a different season and each filled with the family drama, love, and wit that fans have loved and watched over and over again in reruns and on DVDs.
"These bonds take us through all the different stages of our lives," Graham explained to the media. "I mean, to return to the show, it's not a story about a little girl anymore who's in high school (and then college). It's a story about a young woman and kind of the struggles she faces. Yet the dynamics between me and my mother, between, I think, these two characters, they've grown up, but they're the same. And that kind of foundation of 'Here are the people you have to rely on' can take you through any age. I think that's what this show continues to tell us about family."
Family is at the core of this series, and the relationship between mother and daughter evolved and grew tighter as their years progressed. This mother and daughter are two of the closest on TV and the show appealed to a wide age of viewers.
"There's so many well defined colorful characters for everybody to enjoy," stated Scott Patterson, who plays in the series. He proudly said, "I knew it would be special right from the get go, and the more time goes by, the more satisfying it is to become part of this sort of cultural vernacular, if you will. The show's become iconic. The more time goes by, the more generations are discovering it, and it's really special. It's really, really special."
Graham said about returning to the characters and the story, "We've been talking about it for so, so, so long. That was part of the relief and joy of actually getting to do it, because I think we ended up getting to do it in the perfect way." She also said, "It was literally like no time had passed." Gathering the cast and stepping back onto the sets was like coming home. "It was easy. It was joyous. It was fun. It was exhilarating. It was the old show." For Bledel, "It really was as if no time had passed."
Unfortunately, Edward Herrmann who played the patriarch of the family passed away in 2014. His death is part of the storyline and the family must learn to go on without him. "And that gave the show a depth and a sort of emotional complexity that, again," acknowledged Graham, "just felt to me like here's the show grown up even more, and I mention that because it plays into all the choices the characters are making and sort of what they're dealing with in a new way."
Bledel said happily, "It's amazing to know that people are eagerly awaiting the release of these episodes and that they have loved the show all these years, and it's incredible."
Gilmore Girls: A Year in the Life comes to Netflix November 25, 2016.
About the Author
Francine Brokaw has been covering all aspects of the entertainment industry for over 20 years. She also writes about products and travel. She has been published in national and international newspapers and magazines as well as Internet websites. She has written her own book, Beyond the Red Carpet The World of Entertainment Journalists, from Sourced Media Books.
Follow her on Twitter