My Little Pony – Friendship is Magic: Games Ponies Play DVD GIVEAWAY
Category:
Giveaways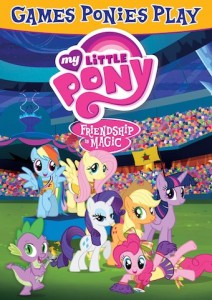 We're all winners when we participate in the Games Ponies Play! The newest DVD release of the phenomenally popular My Little Pony – Friendship Is Magic contains 6 episodes.
Sportsmanship is put to the ultimate test in Equestria as your favorite Ponies — Twilight Sparkle, Applejack, Pinkie Pie, Rarity, Rainbow Dash and Fluttershy — prepare for the Games Ponies Play! Included are six awesome adventures that will teach you all about overcoming the challenges of competition through the magic of friendship. Will Spike be able to build up the courage to light the ceremonial Equestria Games torch? Who's the best athlete in Equestria? And will it matter, when true friendship is on the line? Find out!
We have some DVDs to giveaway.
To be eligible to win a copy of Games Ponies Play, email us at [email protected] with "Games Ponies Play Giveaway" in the title. Please supply your name, address, phone number and email address (so we can let you know if you are a winner).
The deadline for this giveaway is September 24, 2015.