He's a Bully, Charlie Brown DVD GIVEAWAY
Category:
Giveaways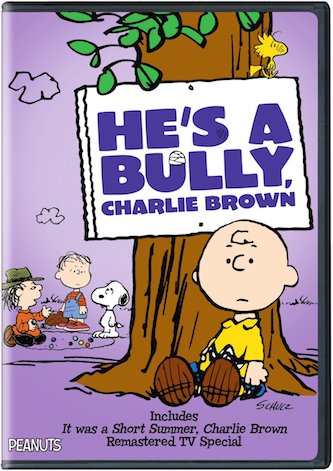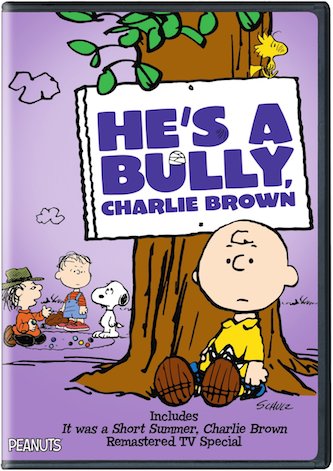 Important life lessons are learned by the Peanuts gang on He's a Bully, Charlie Brown. This heartwarming collection brings together He's a Bully, Charlie Brown and two newly remastered content: It's a Short Summer, Charlie Brown and an episode of The Charlie Brown & Snoopy Show. In this must-own compilation, Charlie Brown is called upon to stand up for one of his pals, who is taken advantage of by a bully at summer camp. This title will be released in time for National Bullying Prevention Month, which takes place in October.
With school out for summer, Charlie Brown and his pals set out for camp. Rerun van Pelt, Lucy's youngest brother, is determined to become a marble master just like his grandpa but first, he must find someone who will teach him how to play the game.
At camp, Rerun meets Joe Agate, who cons him out of all his grandpa Felix's marbles. A devastated Rerun confides in Charlie Brown, who is so disgusted by Joe's behavior that he decides to stand up to him, with the help of Snoopy as Joe Cool, of course.
In It was a Short Summer, Charlie Brown, which is also featured on this release, it's a hilarious battle of boys against girls, with Snoopy having to get in the middle of it all. At summer camp, the Peanuts gang put up with poor food and the girls winning all the sports competitions. To get even, the boys challenge them to an arm-wrestling contest between Lucy and "The Masked Marvel" – aka Snoopy in disguise. Will the boys triumph or stay defeated?
He's a Bully, Charlie Brown also features an episode of The Charlie Brown & Snoopy Show, which includes four delightful segments, including Shoveling, Rerun, Lost Blanket and The Manager.
We have some DVDs to giveaway.
To be eligible to win a copy of He's a Bully, Charlie Brown, email us at [email protected] with "Bully Giveaway" in the title. Please supply your name, address, phone number and email address (so we can let you know if you are a winner).
The deadline for this giveaway is October 6, 2015.