Pitch Perfect 2 Combo Pack GIVEAWAY
Category:
Giveaways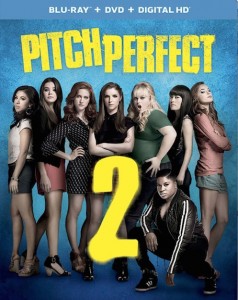 The fabulous Bellas of Barden University are back to compete in the World Championships of A Cappella after a scandal threatens their legacy in Pitch Perfect 2.
Pitch Perfect 2 is packed with more original musical arrangements, memorable one-liners and offbeat romance as the original's most beloved characters fight to regain their former glory on a worldwide stage facing off against the toughest competition on the planet.
Oscar®-nominee Anna Kendrick, Rebel Wilson, Brittany Snow, Anna Camp, Alexis Knapp, Hana Mae Lee, and Ester Dean return as the girls who run the a cappella world, with Hailee Steinfeld, Chrissie Fit, and Katy Segal joining the team for the first time. Elizabeth Banks, who also directed the infectiously funny film, and John Michael Higgins reprise their roles as clueless competition commentators Gail and John. Skylar
Hysterical behind-the-scenes bonus features, never-before-seen deleted footage, all-new musical performances and a hilarious gag reel are included in the combo pack.
We have some Blu-ray/DVD Combo Packs to giveaway.
To be eligible to win a copy of Pitch Perfect 2, email us at [email protected] with "Pitch Perfect Giveaway" in the title. Please supply your name, address, phone number and email address (so we can let you know if you are a winner).
The deadline for this giveaway is September 18, 2015.