'Gross Anatomy' looks at life in medical school
Category:
Blu-ray's and DVD's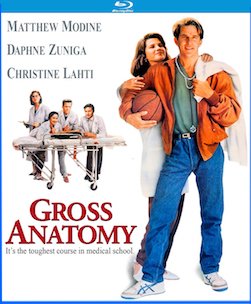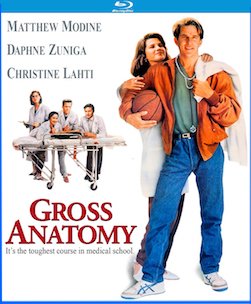 What The Paper Chase (1973) was to Law School, Gross Anatomy (1989) is to Medical School. Matthew Modine and Daphne Zuniga star as first year med students up against a hard-nosed but caring professor.
Modine is Joe Slovak, a man from a working class family. He's the typical joker and they guy who always mouths off in class. In other words, he's the guy you don't want as your partner in class. Zuniga is Laurie, a dedicated med student who has always wanted to be a doctor. They get teamed up along with Miles (John Scott Clough), Kim (Alice Carter), and Joe's roommate David (Todd Field). All of them are eager to make it through med school. It seems Joe is the only slacker, but he ends up showing them that although he is the perennial joker, he has what it takes to make it in med school.
Christine Lahti is Dr. Woodruff, a professor who wants to impart all her knowledge on her students. She has dedicated her life to preparing students to become the best doctors they can be.
Joe continually frustrates them (and I might add, me) with his flippant attitude. He's the guy you don't want but get stuck with. While Miles tries to transfer to another team, he isn't allowed to so he gets stuck the entire year with Joe and the rest of the gang. Miles is the typical suck up, always trying to impress Dr. Woodruff. Laurie is dedicated yet allows herself to believe that Joe has what it takes. And Kim is the one who is accepting of everybody.
The first year of med school proves challenging for them all. But they each have one goal, and that is to pass.
As the year progresses and they dissect section after section of their cadaver, the team grows closer. Sure, they still have some internal frustrations with each other, but they learn to work together for the common good.
Gross Anatomy is now available on Blu-ray from Kino Lorber Studios. It is rated PG-13.
About the Author
Francine Brokaw has been covering all aspects of the entertainment industry for over 20 years. She also writes about products and travel. She has been published in national and international newspapers and magazines as well as Internet websites. She has written her own book, Beyond the Red Carpet The World of Entertainment Journalists, from Sourced Media Books.
Follow her on Twitter