'Guess Who's Coming to Dinner' 50th Anniversary Edition
Category:
Blu-ray's and DVD's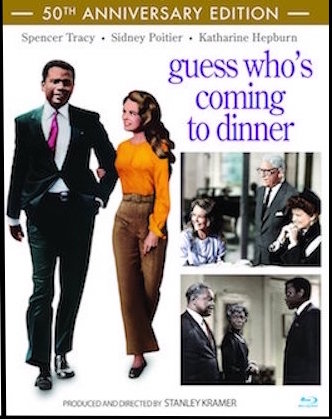 This 50th Anniversary Edition Blu-ray of the classic film Guess Who's Coming to Dinner comes with plenty of bonuses including a booklet about the film with photos from the set as well as pages about the stars and director of the movie. Also included on the Blu-ray disc are several video bonus features, most of which focus on the storyline of the film and the producer/director Stanley Kramer. The movie was a social comment at the time.
The story centers on a young couple in love. They are bi-racial and at the time the movie was made, it was illegal in several states for a mixed race couple to wed. This story captured the attention of the world as Spencer Tracy (in his final role) along with Katharine Hepburn and Sidney Poitier bring memorable performances to this drama that is peppered with humorous scenes that lighten the mood and entertain viewers. The movie introduced Katharine Houghton in the role of Joey, the young white woman who falls in love with a black doctor. Houghton's character has no idea why everyone is making such a big fuss.
Steven Spielberg says Kramer gave us "socially conscience pictures." He admits Kramer was one of his "favorite filmmakers of all time." Kramer's wife Karen says her husband "used film as a weapon" to fight against what he felt were injustices in society and the world.
Quincy Jones says the movie is "a profound statement" and "a big piece of our sociality." Jones agrees with others that it is "a brilliant film."
The winner of two Academy Awards and several other nominations, Guess Who's Coming to Dinner is a classic movie with an amazing cast. Spencer Tracy delivers a fabulous performance and his final scene in the movie wraps up the film with a sentimental and provocative speech to the entire cast of characters.
The award-winning actor did not live long enough to see the final film in distribution, passing away several weeks after the production wrapped. His contribution to Hollywood and this film is timeless. It is difficult to imagine this film with any other actor in this role.
Guess Who's Coming to Dinner is not rated however it is a fun and entertaining film for everyone. this new edition will be released February 7, 2017. Come to the party! Enjoy this classic and memorable film.
About the Author
Francine Brokaw has been covering all aspects of the entertainment industry for over 20 years. She also writes about products and travel. She has been published in national and international newspapers and magazines as well as Internet websites. She has written her own book, Beyond the Red Carpet The World of Entertainment Journalists, from Sourced Media Books.
Follow her on Twitter